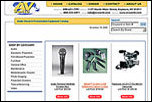 Based on reseller feedback, we designed the site so only the list price will be displayed to end users, allowing resellers to set their own selling price
Grafton, VT (PRWEB) November 30, 2005
AV Bluebook, America's only value-added national distributor of audio-visual, multimedia and presentation products, announces the availability of a new reseller service. Resellers who distribute AV Bluebook catalogs can now take their business online with a complete online catalog that provides up-to-the-minute product specifications and pricing information on over 5000 audio visual equipment products.
"For 30 years we have helped resellers with a unique turn-key program that allows them increased sales without any inventory investment or risk," said AV Bluebook President Bob Singleton, Sr. "Now we are taking the success of that program one step further by offering a custom branded AV Bluebook online catalog to resellers that puts our full audio visual equipment catalog online, customized with the reseller's contact information, making it available to their customers 24/7."
Resellers can choose a custom-branded online catalog that provides a seamless interface between their existing website and the online catalog. AV Bluebook will set up a catalog site for the reseller with a unique URL linking directly to the customized AV catalog from their existing website. Their logo, business name, address, and telephone number will appear on a banner at the top of each page on the site, giving customers the appearance that they never left the reseller's website. The site also provides an online order form, making it easy for customers to contact resellers to place an order or ask for a quote. The form gets sent directly to the reseller through email, simplifying the order process.
"Based on reseller feedback, we designed the site so only the list price will be displayed to end users, allowing resellers to set their own selling price," notes AV Bluebook Sales Supervisor Michelle Mack. "Using advanced site search tools, customers can easily locate the products they are interested in, and contact their reseller to check pricing, request price quotes, and order merchandise."
The online catalog works in conjunction with AV Bluebook's existing audio visual equipment print catalog. Resellers can view a sample version of a customized online catalog or order online at http://www.avbluebook.com/catalog/sample.
For 30 years, AV Bluebook's professional sales and support team have provided cost-effective solutions for the resellers' needs. They serve as the supply chain source for all merchandise featured in their print and online catalogs. Resellers can choose whether merchandise is shipped to them or "blind" drop-shipped directly to the end-user, expediting their ordering process. To learn more about creating a custom-branded online catalog, visit the "Reseller Services" section of http://www.avbluebook.com or call 800.631.7791.]
# # #