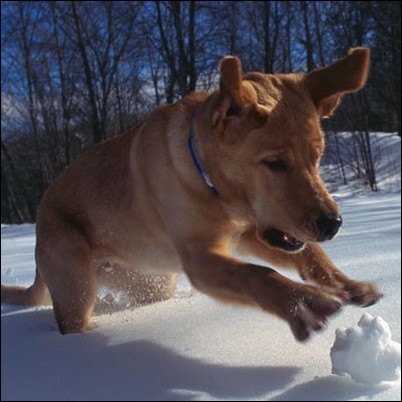 That number is 'low' only if yours isn't one of the dogs that dies, or that you are not among the pet owners whose dogs contract the disease and are hit with a big, unexpected pre-holiday vet bill
Bethesda, MD (PRWEB) November 29, 2005
The skyrocketing rise in domestic travel during the holiday season and the easing of airline restrictions of flying with animals means that pet owners in increasing numbers will be including their pets in upcoming holiday and travel plans. Unfortunately, this season a new disease may put a significant damper on folks planning to travel with their pets. Canine Influenza (Dog Flu), initially found in racing greyhounds, is a virus that mutated from a strain of influenza affecting horses. Highly contagious, the virus causes an acute respiratory infection with signs that mimic "kennel cough", but is more serious and usually requires veterinary attention. According to independent researchers and the Centers for Disease Control (CDC), Canine Influenza has been reported in dogs throughout the U.S. and Canada.
Since Canine Influenza is new, every dog, regardless of breed or age, is susceptible to the infection since they have no naturally-acquired immunity. Experts estimate that nearly 100% of exposed dogs will become infected and about 80% will exhibit clinical signs. At a recent CDC briefing, Dr. Cynda Crawford of the University of Florida reported that "a small population of dogs will develop complications, most likely bacterial complications, and these dogs do need to have their treatment supervised by a veterinarian."
The clinical signs of Canine Influenza include nasal discharge, a low-grade fever, and a deep hacking cough, which generally appear 2-5 days after exposure. Infected dogs can shed the virus 7-10 days after they start to show clinical signs. About 20% of infected dogs never show any signs but are still able to spread the infection to other dogs. Sneezing and coughing are the most common forms of dog-to-dog spread, as well as caretakers who handle infected and then healthy dogs. Additionally, studies suggest that species transmission allows for the potential for dog-to-human spread, similar to that of the rapid infection of the avian flu.
In the initial outbreak of Canine Influenza, over a third of the infected dogs died, but researchers now expect that the mortality rate to be a 'low' 5-8%. "That number is 'low' only if yours isn't one of the dogs that dies, or that you are not among the pet owners whose dogs contract the disease and are hit with a big, unexpected pre-holiday vet bill," suggests Dr. Joel Ehrenzweig, medicinal compliance consultant and head of the Veterinary Division of FLAVORx.
On the bright side, Canine Influenza is sensitive to antiviral drugs like Tamiflu™, the prescription medication that reduces the severity and duration of flu in humans. Tamiflu™ is being used by a growing number of veterinarians for treating viral diseases, including Canine Influenza and Parvo virus in dogs and upper respiratory diseases in cats. With data that indicates Tamiflu™ is 92% effective in preventing flu in people, the FDA has approved its use as a flu preventative. Until a vaccination is developed, many veterinarians see Tamiflu™ as the only viable medication that they can provide for their patients. But unfortunately, what has prevented most veterinarians from using Tamiflu™ is the difficulty in accurately dosing and convincing dogs to swallow it. In all forms, Tamiflu™ has an extremely bitter taste.
"The most necessary and effective treatment will fail if the patient won't accept it. The circle of care is broken, and the result is that the entire veterinary health system fails that patient," states Ehrenzweig. Therefore, the success or failure of the innovative use of Tamiflu in pets rides on the willingness and ability of the pet to swallow the medication. FLAVORx, the company that has eliminated the world of bad-tasting medicine for kids and pets, has added flavoring formulations for Tamiflu™ to its veterinary formulary. After being inundated with calls from FLAVORx Veterinary System users on how to flavor Tamiflu™, Ehrenzweig set out to develop a formulation that would help vets and pharmacists as well as their clients and patients. So far, reports from the field indicate that dogs prefer beef and bacon, while cats like their Tamiflu™ with tuna, salmon or fish chowder flavors. If you find yourself in this situation and need to locate a pharmacy or veterinarian that uses the FLAVORx System near you go to http://www.flavorx.com or ask your vet or pharmacist.
In hospitals -- human and veterinary -- and pharmacies, FLAVORx has become the definitive solution to the problem of non-compliance. By changing bitter-tasting prescriptions, like Tamiflu™, into tasty flavored liquids, compliance rates in patients given flavored medications has risen dramatically. The company's menu of veterinary flavors is designed to appeal to the very different taste preferences of dogs and cats. Veterinarians, charged with caring for patients with extremely sensitive senses of taste and smell, have found the task of adequately medicating these animals difficult, and often, impossible. Rates of non-compliance in companion animals are about 70% for dogs and a startling 90% for cats. FLAVORx's pet-friendly flavors drive compliance rates to over 90% and continue to amaze both veterinarians and pet-owners.
With twenty-five years of veterinary practice experience, Ehrenzweig strongly advises pet owners to follow some common sense rules until more is known about Canine Influenza and an effective vaccine is developed:
a. Watch your pets for signs of illness, and immediately see your vet if your dog has a cough or if it is suspected there might have been exposure to Canine Influenza.
b. Keep your pet away from animals you don't know: animals can spread the virus without showing any signs of being sick.
c. Wash you hands after petting or handling dogs.
d. Don't allow animals to "kiss" you or lick your face.
For more information, please contact Teresa Chen at (800) 884.5771 extension 234.
###