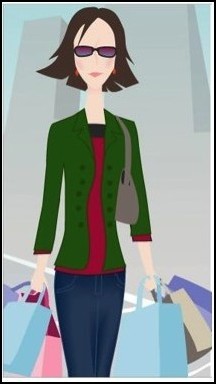 New York, NY (PRWEB) November 30, 2005
Girlawhirl Incorporated, creator of Girlawhirl.com , a popular website/homepage for women, announces the debut of their annual holiday gift guide , featuring multiple gift suggestions with quick click-thrus for purchasing, to make gift giving a breeze. Each weekday through Friday, December 23rd, a different type of recipient will be featured with a variety of creative gift suggestions for all. From co-workers, to clients, gifts that indulge and delight, or high-tech gifts (with a few technical explanations thrown in), and even gifts for foodies, travelers and individualists....Girlawhirl's got you covered.
Girlawhirl travels the globe discovering the best of the best in fashion, beauty, travel, gifts and more. With the debut of the annual Holiday Gift Guide, Girlawhirl pulls out all the stops with daily articles featuring gift suggestions for your big sister to your neighbor who's always taking in your mail, to the hippest person who wants only the latest and greatest. Girlawhirl has found something for everyone and with links right there to make a quick purchase, it's easy to close the deal. Girlawhirl is here to make your holiday shopping as stress free as possible with gift ideas that take gift giving to a whole new level. Log on each day to discover unique holiday gift ideas for that special person on your list.
And Girlawhirl's gift to you? Giveaways each weekday featuring items from that day's Girlawhirl Gift Guide. All registered users are eligible, no need to enter each day! Not registered? Sign up.
About Girlawhirl.com
Girlawhirl.com, launched in September 2005, is a homepage/website for fashion forward women aged 25-40. Already reaching 30,000 unique users in just two and half months, Girlawhirl.com has quickly become one of the top women's informational websites featuring style, fashion, health, restaurant and beauty tips. Girlawhirl travels the world and updates Girlawhirl.com daily with tips on beauty products, fashion news, shopping information and other great ideas she finds during her travels. Girlawhirl.com is THE destination for women who want to stay on top of the latest trends in fashion, beauty, travel, shopping, restaurants, all the while staying fit and healthy, and keeping her finances, and the rest of her life under control. At Girlawhirl.com, women across the globe can also get their own virtual Girlawhirl Handbag, where they can store personal information: lists, things to do, clothes she has to have, calendars and gifts to buy. The lists are mobile, and easily sent via email to portable devices, like a BlackBerry® , Sidekick®, or even a cell phone that has the proper technology. The Girlawhirl Handbag is free and available to all registered users at Girlawhirl.com.
Contact Info:
Dana Hill
Divine Public Relations
201.342.1868
# # #