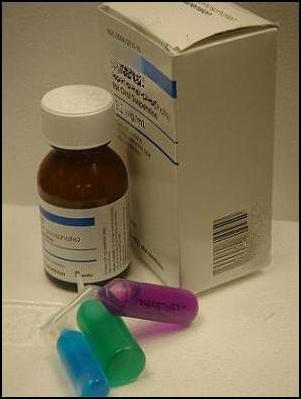 However, this plan collapses at a critical juncture
Bethesda, MD (PRWEB) December 7, 2005
Warning signs disregarded by government officials in the avian flu disaster plan will result in a national epidemic with a toll much larger than anticipated. Fortunately, a biotech company specializing in the proper administration of medicines has derived a viable solution to bypass such a disaster.
For the past two weeks the leaders of the International Association of Medicinal Compliance (http://www.takeyourmedicine.org), a non-profit organization focused on creating a healthier world thru improved medicine compliance, and FLAVORx (http://www.flavorx.com), a pharmaceutical company in the business of overcoming the physiological and psychological hurdles of taking medicine, have been meeting with the US government's top health leaders within Congress.
Currently the government's plan is to spend $7.1 billion on preparing for an avian flu pandemic. $1.4 billion of this will go into 81 million courses of anti-viral medication for nationwide distribution. "However, this plan collapses at a critical juncture," says Woodie Neiss, Chief Financial Officer for FLAVORx. "The bad taste of these anti-virals makes them impossible to ingest, rendering them ineffective."
According to Neiss, "Our government can stockpile all the anti-virals they want, but unless we take them properly, we not only run the risk of increased sickness and death, but a mutation in the virus for which we have no line of defense, be it vaccine or anti-viral."
"Non-compliance isn't anything new," says Gunjan Koul, Program Director for the IAMC, "it is the world's other drug problem." According to the American Academy of Pediatrics, "Compliance with one's medical regimen among children is less than 50%." The two main reasons for this, according to Kenny Kramm, CEO of FLAVORx, are taste and palatability. Both NIH and the CDC state that lack of compliance is one of the major reasons for drug resistance. In the case of a pandemic, noncompliance has effects more severe than lengthier ailments; it really comes down to life and death.
Studies done by the National Institute of Allergy and Infectious Diseases show that children are 2-3 times more likely than adults to contract illnesses and more frequently spread illness to others. It is imperative to the health of the American public that in the event of an avian flu pandemic, children remain well-protected and receive necessary and proper treatments. Therefore, our government needs a plan to address the psychological and physiological hurdles parents face when administering drugs to their children. Since the majority of the public will not be able to reason with their children that taking all their medicine is critical to their well-being, FLAVORx has provided a viable solution.
The company has developed flavor packs to be distributed with antivirals like Tamiflu that will allow the distribution center to offer the child a choice (Grape, Watermelon, Orange or Raspberry) for his/her medicine. "Choice is critical when it comes to getting buy-in from children in taking their medicine," says Kramm. "It is proven to increase compliance from 50% to over 90%. At such a critical time, this is needed more than ever."
"The incremental costs," according to Neiss, "are less than one-half of one percent of what our government plans on spending on these anti-virals. It is a small price to pay given the enormous consequences."
Luckily, public health concerns like this are being brought to the attention of the bureaucrats in Washington with enough time to address them. Given this information, the US can undoubtedly prepare for and prevent another national disaster. As a nation, we cannot afford to let the government again put the nation at risk for lack of preparedness.
For more information, please contact Teresa Chen at 800.884.5771, extension 234.
###