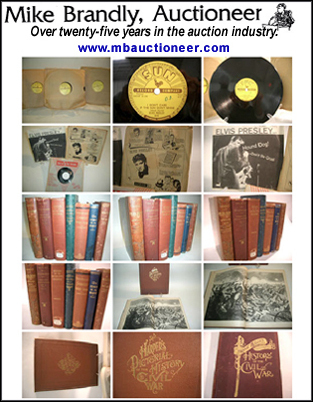 The books are as old as the early 1800s, and records include Sun Records' Elvis albums, etc.
(PRWEB) January 2, 2006
Mike Brandly, Auctioneer in conjunction with CB Technologies, will present the extensive Civil War Library of Country Music legend Dusty Owens at auction Jan. 7-8. This spectacular collection encompasses volumes spanning well over 100 years in print, with many books being particularly rare and valuable. Included with the Civil War group, is a large and diverse collection of vintage 78, and 45 RPM records, from the golden age of country music.
Dusty Owens began his professional career at the young age of 16 in 1946, working at WWOK in Flint, Michigan. His career blossomed in 1953 when he signed with Columbia Records, and began a string of hits, with his crowning achievement being the composition and recording of "Once More." This smash hit has been recorded over 100 times since then, by such greats as Bill Anderson, Floyd Cramer, George Jones, the Osborn Brothers and Dolly Parton.
"The books are as old as the early 1800s, and records include Sun Records' Elvis albums, etc.," said Mike Brandly, Auctioneer. "Our research thus far indicates some books may be in the $500 - $1,000 range, and some records may top $1,000 each."
Of all the engagements, spanning over half a century, Dusty and his Rodeo Boys most notable, may be his long standing association with the Worlds Original Jamboree -- aired on WWVA in Wheeling, W.Va. In 1983, Dusty Owens was honored by WWVA as one of the top 50 country performers in the last 50 years, and his bronze star can be seen in the Walk of Fame, in front of the legendary Capital Theater in Wheeling. As a final testament to Dusty Owens genius, the Roy Acuff version of "Once More," can be viewed for all time, in the Hall of Fame Museum in Nashville. We are pleased to offer some of Dusty's special items to the public.
Currently, Dusty operates a Traditional Country Music radio station on the Internet where he DeeJays 14 new shows every month 24/7. You can find him at http://tcmradio.com.
Web sites to reference are http://www.mbauctioneer.com and http://www.cbtechlive.com. There will be both live and on-line bidding via eBay and http://www.cbtechlive.com. Dates of Auction are 10 a.m. both days -- Friday, Jan.7 and Saturday, Jan. 8, 2006. Preview 8:30 a.m. both days and otherwise by appointment.
Contact: Mike Brandly, Auctioneer, 1635 Election House Road, Lancaster, Ohio. Telephone is (614) 461-9229 and facsimile is (614) 461-5727.
About nationalauctionlist.com:
The National Auction List (http://www.nationalauctionlist.com) is the Internet's largest online database of live auctions powered by AuctionServices.com. In addition to the hundreds of auctioneers hosted by AuctionServices.com, thousands of additional auctioneers list their auctions on the National Auction List. Many of these Auctioneers are members of the National Auctioneers Association and state auctioneer associations from coast to coast.
# # #