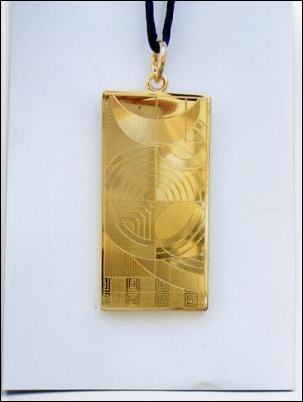 One of the many wonderful things about owning our MegaChi™ Pendant is that every time we improve or enhance the energy through our wireless transmission, every MegaChi™ Pendant automatically receives it
Denver, CO (PRWEB) January 5, 2006
The 24-karat gold-plated MegaChi™ Pendant, the best life enhancing product on the market, continues to prove its unsurpassed excellence in assisting life experiences of the wearer to become the very best that he or she can be. Oxygen Research Institute, LLC's President, Debrah Stuart, ordered the series of testing of the MegaChi Pendants, which began on Thursday, Dec. 15, 2005 at the BioFeedback Institute of California. The pendants are now available at http://www.LifeEnrichingTechnologies.us/ http://www.gods8laws.com/ and http://www.TheEssenceOfHealing.com/
Stuart, the visionary and co-creator of the MegaChi™ Pendants, worked together with co-creator John Civitan, master radiesthesiast and researcher, to create the MegaChi™ Pendant project. "We are both committed to creating the most beautiful, useful and protective energy possible," Stuart said. The pendants were created using a synergy of Ancient Egyptian and state-of-the-art technologies to harness the essence of God's Energy or Source Energy that is sent to the Pendants through wireless transmission. "One of the many wonderful things about owning our MegaChi™ Pendant is that every time we improve or enhance the energy through our wireless transmission, every MegaChi™ Pendant automatically receives it," Stuart said. "People don't have to keep buying a 'new and improved' version, they automatically receive it at no additional cost to them," Stuart said.
Stuart continued, "We will be doubling the energy of the pendant in a few days to welcome the new year with more energy and more protection for the wearer. The increase will be done over the course of about two weeks to gradually boost it to twice its current strength. This heightened energy we've developed is very beautiful, well grounded, more protective and, from what we've experienced from testing, it should prove to be even more useful and more beneficial as a transceiver."
Mary A. Thomas, Director of Marketing of the MegaChi™ Pendants for worldwide distribution, as well as a master healer, spiritual teacher and author, said, "I have spent roughly 35 years studying and working with Divine Energy Transference Healing. I have never before come across anything that has the potential for doing so much good for a person, on so many levels of being, and with so many possible applications. This pendant is worth the wearer's weight in gold for all that it is capable of doing for everyone. And it is limited only by the person's spiritual and intellectual evolution," she said.
The 24-karat gold-plated MegaChi™ Pendants are priced at $249.99 each. The Pendants include a 60-day money-back satisfaction guarantee as well as a lifetime guarantee. Dealer and distributor inquiries welcome.
For more information, please visit: http://www.LifeEnrichingTechnologies.us/ or http://www.TheEssenceOfHealing.com/ or http://www.gods8laws.com/.
Contact Information:
Mary A. Thomas, CEO
Life Enriching Technologies of the U.S.
P.O. Box 27944
Denver, CO 80227
Phone: 1-(303)-980-1562
Toll-Free 1-(888)-237-0190
Fax: 1-(303)-980-1582
# # #