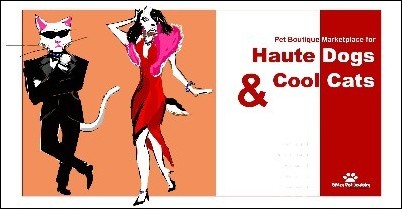 Our glitzy line of pet jewelry and decorative collars was created because we felt there was a definite need for better quality pet boutique products in the marketplace
San Ramon, CA (PRWEB) February 1, 2006
Glitzy Pet Jewelry, division of Creazioni Arlecchino, announces that its new line of haute pet jewelry and dog collars is now available for viewing at GlitzyPetJewelry.com. Glitzy Pet Jewelry an online pet jewelry and collar boutique, revealed today the launch of its website showcasing a stunning assortment of pet jewelry and haute collars for the most discriminating dog or cat. Glitzy Pet Jewelry's necklace and collar designs are unique and now offered to pet lovers who want to give their pet the ultimate in fashionable assessories. Available at http://www.glitzypetjewelry.com, Glitzy Pet Jewelry offers fashionable pet jewelry and decorative couture collars in a variety of sizes and colors for both small and large dogs and cats.
California-based entrepreneur Deborah Idzi, Founder of Glitzy Pet Jewelry - Pet Boutique Marketplace, credits her Springer Spaniel, Nicia Plinia with inspiring the Glitzy Pet Jewelry & Collar brand. "Our glitzy line of pet jewelry and decorative collars was created because we felt there was a definite need for better quality pet boutique products in the marketplace," said Deborah. Our collection of original pet jewelry and stylish accessories is designed and assembled in-house to ensure lasting quality in craftsmanship and design. Since pets have become very important family members, it follows that the well-dressed haute dog or diva feline should be spoiled with bejeweled accessories."
About Glitzypetjewelry.com
Glitzy Pet Jewelry, division of Creazioni Arlecchino, started in 2005 bringing upscale, quality pet jewelry and decorative designer collars to stylish furry pets everywhere. The jewelry products developed use fine materials with unique accents such as Austrian Swarovski® crystals in pastels that mimic semiprecious stones, turquoise, coral, and colorful freshwater pearls with toggle, lobster claw, and swivel clasps. Glitzy Pet Collars are highly decorative and made with ornate designer and passamentrie trims, glitzy sequins, sparkling rhinestones, fabulous faux fur, Swarovski pearls, and other whimsical ornaments. Glitzy Pet Jewelry whether purchased by pet owners for themselves, their children, or for their pet kids, is always a feel-good gift. Additional information on Glitzy Pet Jewelry and Couture Collars can be found at http://www.glitzypetjewelry.com.
###