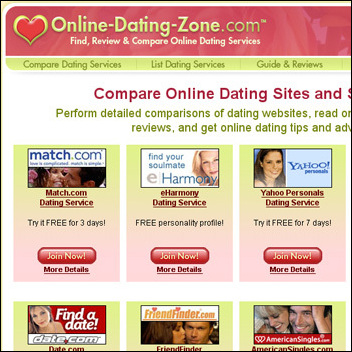 Austin, TX (PRWEB) February 1, 2006
Online-Dating-Zone.com is the definitive source to find, compare, review and join matchmaking dating services. With numerous online dating sites to choose from, selecting the right one can be a tough decision. Online-Dating-Zone has compiled information about the type of members (casual relationship seekers, serious relationship seekers, etc.), number of members, and more for each site.
The dating sites on Online-Dating-Zone include Match.com Dating Service, Yahoo Personals Dating Service, eHarmony Dating Service, and other dating services. "This is the first time that I've seen all the leading dating sites in one place," industry watcher Zach Barrett noted, "the features of the site allow you to compare them and review each one. It really is a great resource if you want to join one of these services!"
Some of the most useful information on Online-Dating-Zone.com explains what dating site members can do for free versus what they can do as a paid member, and what is required for a free membership. Every online dating service allows users to register for free, but what they can actually do as an unpaid or free member varies drastically from site to site. Some online dating services allow unpaid members only to fill out a profile and post photos, while others will let them search for other members, respond to emails, and more. For visitors considering joining an online dating service as a paid member, Online-Dating-Zone.com has compiled detailed information about all available membership options (one month, 3 months, one year, etc.) and cost information for each option. Dating services comparisons are made simple by Online-Dating-Zone.com's side-by-side compare pages.
The extensive guide and reviews section of Online-Dating-Zone.com contains detailed online dating reviews about each dating site and a number of informative articles that will help visitors use online dating services more effectively. Featured reviews include a Match.com Review, Yahoo Personals Review, and eHarmony review. Each review gives detailed information about the service, what sets it apart from other services, the extent of what members can do for free, and what it really costs. Featured articles include Free Dating Services Online, Dangers of Online Dating, Dating Advice and Tips, and Online Dating Etiquette. Online-Dating-Zone.com delves further into online dating topics than other dating service comparison sites and attempts to answer the questions that really matter to its visitors.
About Online-Dating-Zone.com:
Online-Dating-Zone.com was developed by 20-somethings who were increasingly frustrated with hundreds of fly-by-night online dating services! The site creates one, centralized location where visitors can view the best and most reputable online dating services, get full details about each service, and read informative reviews and articles to help them select the right dating service and effectively use the service.
# # #