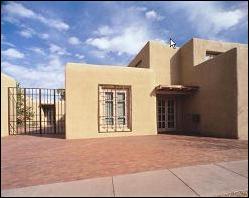 A Celebration of New Works: Recent Gifts, Promised Gifts, and Extended Loans.
Santa Fe, New Mexico (PRWEB) February 2, 2006
The Georgia O'Keeffe Museum is pleased to announce that its holdings have recently increased dramatically -- from 271 to 1102 works -- and a selection of these new works will be showcased in the exhibition "A Celebration of New Works: Recent Gifts, Promised Gifts, and Extended Loans."
Museum Curator Barbara Buhler Lynes has organized "A Celebration of New Works" to highlight some of the 845 works that are new to the Museum's collection. The exhibition opens on Friday, February 10, 2006, and remains on view through June 4, 2006.
"New Works" will highlight many of the works on paper that are among the 831 works (drawings, paintings, and sculpture dating from 1901 to 1984 by Georgia O'Keeffe that will be conveyed to the Georgia O'Keeffe Museum by March 6, 2006, when the Georgia O'Keeffe Foundation transfers all of its assets to the Museum. Most of the works on paper have never or rarely been exhibited, such as "Morning Sky with Houses," 1916, completed shortly after O'Keeffe's arrival in fall 1916 in Canyon, Texas, where she lived and taught until early in 1918. Also in Canyon, in 1917, O'Keeffe completed 13 nude self-portraits in watercolor. The transfer brings the Museum four of these portraits, which increases its holdings of these self-portraits to eight.
(In addition to these works, the Museum will also receive extensive archival materials and become steward of O'Keeffe's historic house in Abiquiu, New Mexico. The Museum already owns and maintains the artist's Ghost Ranch property, 20 minutes north of Abiquiu.)
"The exhibition also includes eight paintings that have come to us as gifts through the extraordinary generosity of a donor couple who wish to remain anonymous," says Buhler Lynes. "These works represent the only collection, public or private, of images of New Mexico by the following eight artists, who worked in New Mexico in the 20 years after 1912, when what had been a territory attained statehood: George Wesley Bellows, Thomas Hart Benton, Stuart Davis, Marsden Hartley, Robert Henri, Edward Hopper, John Marin, and John Sloan. There are works in oil, pastel, and watercolor, such as Benton's 'Train on the Desert,' oil on canvasboard, 1926; Davis's 'Electric Bulb, New Mexico,' oil on canvas, 1923; Hopper's 'Poplars,' watercolor, 1925; and Hartley's 'Arroyo Hondo — NM,' pastel on paper, 1918.
"Such works by O'Keeffe's contemporaries," adds Buhler Lynes, "enhance our ability to fulfill one of our fundamental objectives: to continue to organize exhibitions of O'Keeffe's contemporaries that shed light on the history of American Modernism, a phenomenon that began in America in the 1890s and continues into the present."
"While the primary collecting mission of the Museum is to acquire works by O'Keeffe, it is also our goal to add works by her contemporaries, thereby fulfilling our mission to place her in the broader context of American Modernism," says George G. King, Director of the Museum. "The extraordinary gift from the Georgia O'Keeffe Foundation, coupled with these private donations of works of art, affirm our collecting philosophy. We are extremely grateful to the Foundation directors and families that made them possible."
"A Celebration of New Works" will also feature "Ghost Ranch Landscape," an O'Keeffe painting of c. 1936 that has come to the Museum through a bequest from the late Jerome M. Westheimer, a lifelong resident of Ardmore, Oklahoma. "Ghost Ranch Landscape" depicts one of O'Keeffe's favorite landscape configurations, the flint-topped mountain Pedernal, which looms in the distance directly beyond the patio of her Ghost Ranch house. O'Keeffe made more than 20 paintings of Pedernal, several of which are already part of the Georgia O'Keeffe Museum collection — such as the pastel "Pedernal," 1945, and the oil painting "Spring," 1948.
These three landscapes, as well as others from the Museum's collection, will be on view in "A Celebration of New Works," as well as two works that are on loan to the Museum from private collections. "White Place in Shadow," 1941, is an oil painting of another site that intrigued O'Keeffe, the Plaza Blanca, which she called the White Place. This is from a series picturing cliffs, spires, and other oddly shaped rocks made of white volcanic ash more than 60 million years ago. The pastel "The Black Place III," 1945, is one of many depictions of the gray gypsum configurations near Nageezi, New Mexico, in the Bisti Badlands near Chaco Canyon, which O'Keeffe called the Black Place.
"A Celebration of New Works" will include two very important watercolors that come to us as Promised Gifts from The Burnett Foundation, "Starlight Night" and "Canyon with Crows." Both date from 1917, when O'Keeffe was teaching in Canyon, and are some of the most innovative works of her entire career. In their minimalist simplicities, they reveal O'Keeffe's keenly modernist sensibilities as she distills experience into patterns of expressive color.
ADMISSION TO "A CELEBRATION OF NEW WORKS"
$8 adults; $7 seniors 60 and over; $4 students 18 and over and New Mexico residents; Free for children 17 and under. Free Fridays 5-8 PM.
HOURS
10 AM - 5 PM Thursday-Tuesday; Free Friday evenings 5-8 PM.
LOCATION
Georgia O'Keeffe Museum, 217 Johnson Street, Santa Fe, New Mexico.
Information: 505.946.1017. Membership: 505.946.1036.
Images available on request.
# # #