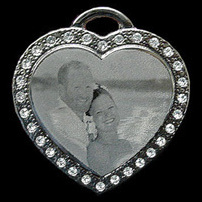 This season, we set a mission to truly raise the bar for personalized gifts.
Van Nuys, CA (PRWEB) February 6, 2006
Those wanting to really make her smile this Valentine's Day are looking at gifts that may not be as traditional but are far more personal. Personalization is a key to gift giving and it is not always easy to accomplish with flowers, candy, and even jewelry. Jewelry has always been a popular Valentine's Day gift and new technologies are providing new, personalized options for your special someone. One website, in particular, is offering customers the ultimate in personalized jewelry this Valentine's Day.
IcedOutGear.com - http://www.icedoutgear.com/ - has long been leading the Internet in 'bling' and 'ice'. Products available on their website can be seen on everyone, from the necks of major recording artists to the belts of budding superstars on American Idol. Personalized items such as necklaces, dog tags, belt buckles, and more have long been a staple of the IcedOutGear product line. For the Valentine's Day season, they have taken personalized gifts to a new level with their photo or picture, laser engraved pendants.
Eric Liberman from IcedOutGear.com told us that, "This season, we set a mission to truly raise the bar for personalized gifts." Mission accomplished. The heart shaped pendants that are available for engraving on their site come with a stunning quality of craftsmanship. Customers are able to place their order and then submit their chosen image in either jpeg or gif format. IcedOutGear takes care of the rest by having the image transferred directly to the piece of jewelry. This is not some thermal impression; the picture is actually etched into the metal by laser so it will last for many Valentine's Day holidays to come. No picture is too intricate, either.
Maybe your special someone would prefer something with a little more 'ice' to keep her cool this Valentine's Day? IcedOutGear has you covered there, too. Their selection of 'iced out' jewelry is unmatched and offers thousands of pendants, necklaces, bracelets, earrings, fashion rings, and more. If she likes 'bling' then you are certain to find her the perfect gift at IcedOutGear.com.
However you can, keep her happy this Valentine's Day. Personalization will help show the thought that was put into her gift. Remember, when it comes to Valentine's Day gifts; Flowers and candy are nice, but they are nothing compared to 'ice'.
# # #