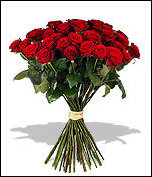 (PRWEB) February 3, 2006
Serenata Flowers are pleased to announce that they have received a Gold Award for best online florist from the UK's best selling Internet magazine, Web User, beating Interflora and Tesco.
As the UK's largest independent online florist, Serenata Flowers offer stunning flowers at very attractive prices all backed by a 100% satisfaction guarantee.
In their review, Web User were particularly impressed with the ease of use of the Serenata Flowers website and the high quality and longevity of the flowers received.
With Valentines Day on the 14th February, the UK's online florists will receive a major increase in traffic and orders over the coming week. Visitors to the Serenata Flowers website during the run-up to Valentine's Day will find many stunning floral gifts to suit any budget, ranging from 50 red tulips at £34.99 to a truly extravagant bouquet of 50 long stemmed deliciously deep and velvety Grand Prix roses at £169.99. To ensure loved ones feel extra special, all Valentines orders will be sent for delivery between 8am and 6:30pm.
Serenata Flowers have been established in the UK for 2 years and are the UK's fastest growing online florist. By sourcing fresh flowers direct from the best growers around the world, the flowers are fresher, spend less time in transift and offers significant cost savings for customers.
With distribution centres in London, Manchester and Birminham, Serenata are able to offer same day delivery of floral gifts to 70% of the UK's population and next day delivery to the whole of the UK.
Web User is the UK's top-selling internet magazine, is published fortnightly and includes independent reviews of over 200 websites in each issue.
# # #