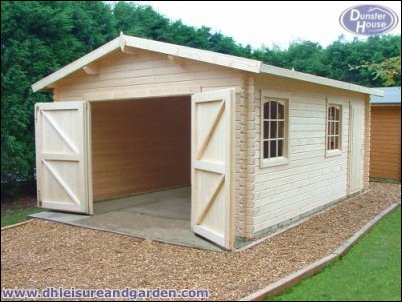 Bedford, UK (PRWEB) February 5, 2006
Garages are useful additions to a house, helping to enhance a property by giving extra outdoor storage space, and most importantly, providing a safe and secure place to park a car, or motorbike. The government reports that there are still more than 4500 car crime incidents every day and police reports show that vehicle crime accounts for around one in five recorded offences committed in England and Wales each year. Locking a vehicle away inside a garage instead of leaving it outside a house in a driveway or on the street will help prevent thieves and vandals from gaining access to it, thus protecting it from theft or damage. Using a garage gives a vehicle the protection it needs and the owner peace of mind that one of their most valued possessions is safe. With this reduced risk of car crime, using a garage for the car could even help to save on motor insurance.
Adding a garage to a house could also benefit in adding value to a property, which is becoming an important issue due to the increasing house prices.
A garage not only keeps a car safe but also keeps it protected from adverse weather conditions. During the Winter months there's no need to worry about wasting time with the hassles of scraping ice off the windscreen, and during the warmer months cars are kept in the shade which prevents them from getting too hot inside.
A wooden garage has the advantage of a natural and attractive appearance and there are many wooden garage kits on the market that have the perfect design for keeping a car safe. Wooden garages made with interlocking log walls give a sturdy and stable structure. A wooden building is also warmer inside as timber is a warmer material than concrete or brick. This means that the contents stored inside the garage will remain warmer and drier and there should be less condensation.
Of course, a garage doesn't necessarily have to be used to store a car - it makes an ideal room. A wooden garage kit can easily be transformed or used as a log cabin to create the ideal workshop, games room, studio, home gym, or designated area for working on fixing or modifying a car or motorbike.
To find out more about wooden garage kits or log cabins, please visit the Dunster House website at http://www.dhleisureandgarden.com.
# # #