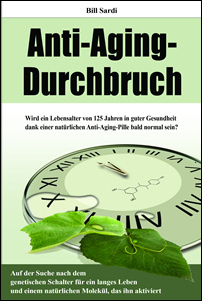 San Dimas, CA (PRWEB) February 4, 2006
Red wine has been extolled throughout the centuries as good medicine, but now researchers herald the development of a red wine pill that can concentrate the healthy properties of red wine in a dietary supplement without calories, alcohol or preservatives.
Health journalist Bill Sardi writes about the prospect of red wine pills in promoting longevity and improving health in his new book, The Red Wine Pill. The book describes the latest scientific discoveries surrounding resveratrol, a red wine molecule believed to be responsible for the healthy properties of red wine.
The book describes how resveratrol, as a small molecule, switches genes "on" or "off" and can control the rate of DNA repair and aging. Compelling evidence is presented, such as the oldest living humans in modern times have been red wine drinkers. Geographical concentrations of people who live beyond 100 years also coincides with wine drinking or the consumption of other foods that contain resveratrol.
The recent availability of a specially-preserved red wine pill in Europe should generate widespread interest in this book. It is now available online at: http://www.anti-aging-durchbruch.com
# # #