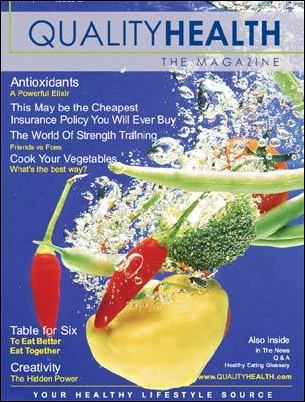 Table for Six: To Eat Better, Eat Together
Edison, NJ (PRWEB) February 6, 2006
QualityHealth, a health-focused information services company, announced today the official launch of QualityHealth, The Magazine, a monthly digital publication distributed free to consumers interested in pursuing healthier living.
A brand extension of sister property QualityHealth.com, the new online-only magazine is designed to help consumers of all ages feel better from the inside out. It explores in-depth the latest issues across health & wellness and empowers readers to make informed decisions regarding their nutrition and fitness habits. An ad-free issue showcasing the magazine's many features was test launched to great success in January.
Publisher Matthew Combs said, "We're thrilled that our mission to create an appealing, informative publication has, in just its first month, already attracted 2 million readers across the country."
The feature pages of the magazine include regular contributions from two of the nation's top fitness and nutrition figures, Bob Greene ("Total Body Makeover") and Carolyn O'Neil ("The Dish: On Eating Healthy and Being Fabulous!"). Thought-provoking articles in the February issue include "The Amazing Power of Antioxidants," "Table for Six: To Eat Better, Eat Together," and "Friends vs. Foes in the World of Strength Training."
QualityHealth, The Magazine is the second publication to be introduced by the company's Digital Publications group in the past two months. In December 2005, QualityHealth also relaunched its Nubella branded newsletters. Aimed at consumers who are nutrition-minded, the weekly newsletters contain articles, recipes and coupons focused on healthy eating. Both are complimentary to consumers who sign up for free QualityHealth community membership.
As with its sister publication QualityHealth, The Magazine, the Nubella series of newsletters is an apt vehicle for companies seeking to reach out to consumers with their health & wellness brand campaigns.
"Both publications are rapidly catching the attention of advertisers with their audiences," explained Helene Monat, Chief Executive Officer. "QualityHealth has built a trust with its community of readers at QualityHealth.com and the publications are an ideal fit for brand managers seeking an independent, trusted informational context for their message."
In addition to its unique blend of bright imagery and timely articles, the magazine's online format allows it to offer an advertising platform that looks like print but features the click-through capability of online banners.
The magazine's official premiere issue is available today at http://www.qualityhealth-themagazine.com. The newsletters are available through http://www.nubella.com.
For more information contact:
Peter Burch, (732) 452-9797 x11, pburch@qualityhealth.com
http://www.qualityhealth.com/corp
About QualityHealth
QualityHealth is one of the nation's leading providers of health & wellness information to consumers. B-to-B services include targeted lead generation, specialized consumer acquisition, patient education and permission-based interactive marketing.
QualityHealth operates QualityHealth.com, a nationally ranked consumer site with 10 million members who visit for health management tools, support groups, courses and news stories. The site also features product offers from leading pharmaceutical and consumer products companies.
QualityHealth is a division of the information company Marketing Technology Solutions Inc. (MTS). Its online properties include QualityHealth.com and Nubella.com.
# # #