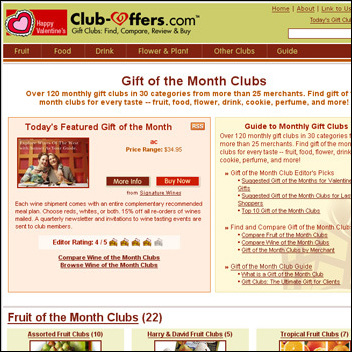 Austin, TX (PRWEB) February 6, 2006
A number of Valentine's gift of the month club suggestions are now available at Club-Offers.com. Gift of the month clubs are a fool-proof Valentine's Day present because they remind the recipient that they're thought of year-round. Monthly gift clubs for Valentine's Day include traditional favorites such as flower clubs, food clubs, and fruit clubs, and many other intriguing options that are sure to impress.
Club-Offers.com has over 100 monthly gift clubs to compare, review, and purchase. The site compiles extensive information on each gift club and rates each one so that visitors can make an educated decision when comparing similar clubs. This is particularly important with popular club categories, such as flower of the month clubs, fruit of the month clubs, and food of the month clubs, where visitors are faced with an abundance of club choices. Furthermore, Club-Offers.com makes gift club suggestions for every major holiday so that visitors will never be at a loss for an idea of what to send next.
For the special guy on Valentine's Day, Club-Offers.com suggests off-beat monthly gifts, such as the monthly necktie, salsa, barbeque sauce, or hot sauce club. For the special girl, memorable gift club choices include perfume, candle, chocolate, and flower of the month clubs. Each of these monthly gift clubs can be shipped for 3, 6, or 12 months. Many clubs offer a month-to-month option that is a great choice for visitors that live with their Valentine.
"My favorite choice," said Club-Offers editor Sylvia Meyers, "is the movie of the month club. It's perfect for him, her, them, or the whole family." The club sends a theater-style popcorn bucket filled with a Blockbuster gift card good for one movie rental, 2 microwavable popcorns, 2 kettle corns, and 4 movie-sized candies each month. "It's a guaranteed monthly date and reminder of your Valentine's present!"
Visit Club-Offers.com for more Valentine's Day gift club suggestions and make Valentine's Day last year-round!
About Club-Offers.com
Club-Offers.com is the first shopping comparison site for the gift of the month club market. The site is updated with gift club ideas for every major holiday. The site helps consumers find, compare, review, and buy unique monthly gifts for everyone. Club-Offers.com provides gift-givers with variety – over 120 monthly gift clubs in 30 categories from more than 25 merchants – all available to purchase online. Gift of the month club choices range from fruit, food, and flower of the month to drink, cookie, and even perfume of the month.
# # #