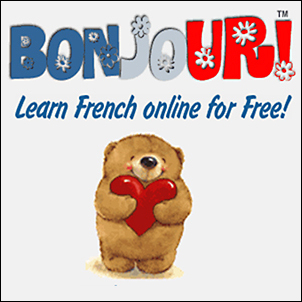 I love you with all my heart
Toulouse, France (PRWEB) February 8, 2006
Bonjour.com has long offered free, high-quality, listen-and-repeat audio lessons. Now, just in time for Valentine's Day 2006, they have added dozens of romantic expressions that anyone can learn to say or write. These new phrases are certain to impress that special someone.
The new Bonjour.com Love and Romance section includes expressions like "I love you with all my heart," "You are the sunshine of my life," "Will you marry me?", "You're handsome," and more. It also contains quotations about love from famous French writers like Alfred de Musset, Antoine de Saint Exupery, and Paul Eluard.
"In a relationship, it's important to set aside daily routines from time to time and tell the person that we share our life with how much they mean to us," said Thierry E. Toniutti, the founder of Bonjour.com. "Too often we can't find the words to express these feelings, perhaps because of shyness or modesty. But making the effort to say "I love you" in French will add extra meaning to the sentiment and extra sparkle to the eyes of a loved one. That's why we decided to create this new section and offer it to everyone for free."
Bonjour.com offers to learn French lessons online for free covering various topics and featuring more than 350 quality audio files. To start learning French or refresh your French-speaking skills, visit http://www.bonjour.com.
Note to editors: If you would like to use a portion of the Bonjour.com website, please contact us.
Contact:
Thierry E. Toniutti
WTA
Phone:+33561845932
Fax: +33153013575
Form: http://www.bonjour.com/link.htm#contact
###