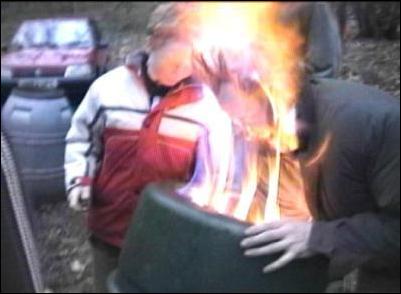 Los Angeles, CA (PRWEB) February 26, 2006
The Homegrown Collection
'The Homegrown Colleciton' DVD is an electrifying stunt and prank spectacular filled with violence, blood, fighting and enough insanity and mayhem to keep you on the edge of your seat, breathless, waiting to see the next amazing stunt. Such as somebody willingly getting hit by a car driven by one of his friends or a man using an electric drill to impale a metal screw into his arm?
Or somebody lighting their body on fire and preceding to dance before extinguishing the flames with a front flip into a pool? And they do this all for fun...
"This is Homegrown," says underground stunt veteran Dan G. And this is what Michael Moody, creator of several controversial documentaries, one of which being '101 Reasons Not To Be A Pro Wrestler', has compiled into what is known simply as 'The Homegrown Collection'. Michael Moody had recieved legal threats from wrestlers included in his '101 Reasons Not To Be A Pro Wrestler' documentary, which upsetted one wrestler so much that he attacked Michael Moody recently at an indy wrestling show.
Michael Moody and Hollymood Entertainment refuses to re-hash the same old garbage entertainment you see all of the time and the company is always tackling new, fresh ideas.
Hollymood Entertainment's 'The Homegrown Collection' will set new standards for the extreme-entertainment genre, while possibly dispelling some of the negative stereotypes that follow it. Watch the trailer for 'The Homegrown Collection' at http://www.HollymoodEntertainment.com
Also, recently released, "New Jack: Hardcore", a tell all documentary about New Jack, the most feared man in all of professional wrestling, featuring gruesome footage of now infamous matches including the stabbing of one of his opponents, which New Jack was sent to jail for.
Another soon to be released production, 'Porn: Behind The Scenes' is a documentary featuring interviews with some of the biggest names in the adult entertainment industry such as Marey Carey, Lexington Steel, Obsession, Vicki Vette, Mika Tan and many other famous porn stars.
For further details on 'The Homegrown Collection' or more information regarding any of the productions listed in this article, please contact Michael Moody through the http://www.HollymoodEntertainment.com website.
Michael Moody
(626) 665-7571
# # #