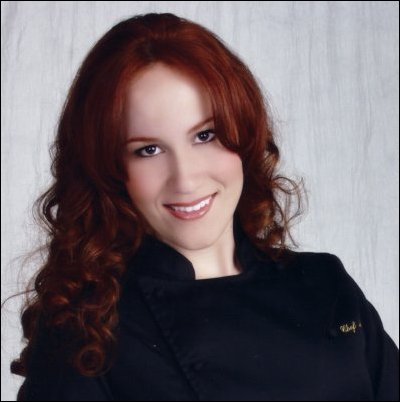 Miami, FL (PRWEB) February 7, 2006 -
Miami's hottest chef, cookbook author, and entrepreneur is also this nation's youngest. At 21 years old Chef Adrianne has written her first cookbook - "Maximum Flavor". With that, she is owner of Terra Dolci Corporation where she makes her exclusive culinary products, Maximum Flavor Essentials.
This fiery red headed chef is a graduate of Johnson and Wales University where she got her competitive motors running. She placed top ten in the country even before entering the university in competitions such as Taste of Florida, the National Gingerbread Bake-Off, and the National Recipe Contest. As a freshman, she won First place in the United States in "Search for the Seasoned Chef." That led her to become the youngest female captain of the American Culinary Federation competition team. That was only the beginning.
In 2003, she competed in Taste Down Under - an Australian Culinary Competition. Her fusion of Cuban, Oriental, and Mediterranean took her to cook for the Ambassador's of the United Nation's in New York City. She was named youngest chef to cook at the U.N. If that was not enough of an honor, she did it for a second time. This time things would change.
Among the elite guests were Ambassadors, writers from Gourmet Magazine, Bon Apetit, and Savuer. In addition, there were members from the James Beard House and television network producers. That dinner took Chef Adrianne to stay an extra day in New York City to go visit the new Food Network in Chelsea Park - Adrianne met with producer Jill Novatt.
By the end of the month, Adrianne was being trained for a show by the infamous Lou Ekus's Airtyme. In the midst of everything, the chef decided to leave her job at the beautiful 5-diamond Mandarin Oriental Miami - where she was also the youngest chef on board - to write her edgy cookbook . "Maximum Flavor" was produced between Miami, New York, and California.
Chef Adrianne launched Maximum Flavor at a show she produced and directed herself, Maximum Flavor Live. She performed the show at Miami's waterfront stage at Bayside. There were tastings, music, and dancing.
In addition, Adrianne has co-hosted Food Talk with Rocco Dispirito. She has made history in her own way - being the first, youngest, female chef to make the front page of a major newspaper, The Miami Herald. She has features in The American Culinary Review, WSVN 7, The Brickell Post, and many more. At the Miami International Book Fair, sales roared and so did the young chef as she drew in crowds with her energy and flavor. No wonder Chef Rocco Dispirito calls Chef Adrianne "a phenomenon".
This year (2006) marks the launch of "Spice Things Up", the chef's monthly newsletter. There are big plans for this hot chef as she revolutionizes "flavor" in America.
Catch Chef Adrianne on Food and Wine Talk (88.9FM) February 13th 11:00am-12:00pm as she reveals her sexy Valentine's Dinner Secrets. Furthermore, see her cooking live on NBC's South Florida Today February 17th.
For more information please visit http://www.maximumflavor.com
*Interview and photo opportunities available. Contact appearances-at-maximumflavor.com
Contact:
Name: Adrianne Calvo
phone number: 305.338.1723
press-at-maximumflavor.com
# # #