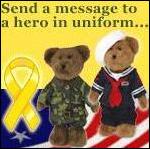 It is gratifying to see so many members of our country's military utilizing our gifts by writing heartfelt messages to all their loved ones, including their children
Austin, TX (PRWEB) February 9, 2006
BearAffection.com, an online teddy bear store with a unique slant, offers a way for our country's armed services members stationed far from home to stay connected to their loved ones. Through BearAffection.com, members of military families can send each other stuffed animals packaged with personal messages. In this age of impersonal text messages and e-mails, Bear Affection is helping people get back to the basics of meaningful written communication.
"Many teddy bear sites can be found out there today, but not one of them is similar to the original concept we have of combining long personal messages printed on parchment with the highest quality stuffed animals in a unique Canadian birch package," co-owner and co-creator, Cheryl Trott.
For those who have trouble putting feelings into their own words, Bear Affection has a wide selection of messages to choose from that have been composed by professional writers. Customers also have the option of composing their own messages.
More than 100 teddy bears are featured on the site to meet everyone's needs. Bear Affection also carries a new line of Boyds Bears for each branch of the military service, dressed in very detailed and accurate uniforms, including desert camouflage.
"It is gratifying to see so many members of our country's military utilizing our gifts by writing heartfelt messages to all their loved ones, including their children," said Ms. Trott. "We felt it was critical these days to have an important means of expressing deep emotions in a way that won't be forgotten."
Bear Affection is featured on the Army and Air Force Exchange Service's http://www.CentricMall.com, which is an online base exchange seen by all branches of the military service and their families throughout the world. Bear Affection offers discounts for service members who order through the Centric Mall site.
BearAffection.com has been online since 2004, carrying a wide and continually changing selection of teddy bears and messages for every occasion. The site will soon feature messages written by children, so that adults can help them send these affectionate stuffed animal gifts to parents and grandparents for holidays, birthdays or just because they want a unique way to say "I Love You."
Contact:
Cheryl L. Trott
Co-Owner
http://www.BearAffection.com
Phone: 512-257-1057
# # #