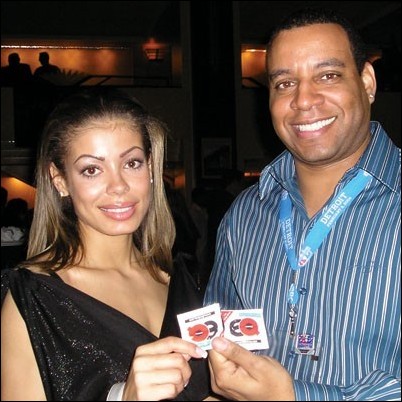 Walter and Connie Payton Foundation
Bethesda, MD (PRWEB) February 10, 2006
Former Green Bay Packers safety Julius Curry sponsored an all-star Super Bowl "Legends" party at the luxury Atheneum Hotel Suites in downtown Detroit last Saturday, February 4th, 2006 to benefit the "Walter and Connie Payton Foundation". The Foundation is dedicated to the emotional healing of neglected, abused, and underprivileged children by providing tools and opportunities to build self- esteem and encourage a better family unit giving hope for a brighter future. The glamorous event welcomed approximately 1,000 guests who enjoyed an evening of great food, fancy drink, live music, dance, a silent auction and premiere fashion show. EQ, the Smart Energy Drink was present as an honored contributor, and kept guests energized through the night with complimentary samples. Mounds of empty EQ wrappers abandoned and emptied drink glasses and EQ chatter signified the crowd's enthusiasm toward the industry's newest effervescent technology in energy drinks. Because EQ is currently available only in select high-end hotels and online, guests were ecstatic to have first-hand exposure to EQ, the hottest product to hit the energy drink market in recent years.
The night began at 8pm in the Grand Ballroom of the Atheneum, an 8th floor venue offering a floor-to-ceiling window view of Detroit's downtown cityscape. Guests mingled over cocktails on both the VIP and general admission levels and took in the scene admiring art and high-end fashion items from local designers, as well as unique and priceless items for bid in the silent auction. The night kicked off with a fashion show from Nocce Designs, followed by a live musical performance from Kiahyo. Attendees included Jimmy Kimmel, Boys II Men, and NFL players such as Mike "Scooter" McGruder, Roy Manning and Steve McMichael, as well as NASCAR racing sensation Chase Montgomery. Media relations guests included Access Hollywood, FHM Magazine, Sister to Sister Magazine and the Detroit Auto Scene. Other invited guests included Nick Lachey, David Givens, Julius Jones, Michelle Williams and Kelly Rowland of Destiny's Child, Drew Henson, William "The Refrigerator" Perry, Derrick Coleman, Marlon Jackson, DJ Polo, DJ Steadyrock, P Live, Antonio Gates and Braylon Edwards.
EQ representatives were on-site to captures photos of guests enjoying each other's company, the entertainment, and of course, EQ. Partiers spent time at the bar getting creative with EQ recipes and experimenting with the effervescent tablet in a multitude of different beverages. Several guests were also spotted stashing a few extra EQ tablets in their pockets and purses to cure their virtually unavoidable Sunday morning hangovers. With its essential mix of vitamins, ginkgo biloba and unique energy blend, EQ was extremely popular and well-received among both the VIP and general admission guests. And the buzz didn't just stop there—several party attendees were heard proclaiming their excitement about EQ while cheering on their favorite teams at Super Bowl parties the following day.
To date, EQ has been made available online, at major events and to premiere hotel establishments such as the Soho House, a members-only luxury club and hotel. Through partnerships such as these, EQ has been presented to partygoers and clients in Las Vegas, New York and Washington DC, and featured at events such as New York's Fashion Week (where Mary-Kate Olsen was spotted yesterday morning leaving her hotel with her EQ) and the Super Bowl in Detroit.
Help determine consumer preferences by expressing your opinions on energy drinks by clicking http://www.surveymonkey.com/s.asp?u=519031766580. To check our event pictures and to learn more about EQ, please visit http://www.drinkeq.com.
For more information and to find where EQ will be appearing next contact Teresa Chen at 800.884.5771, extension 234.