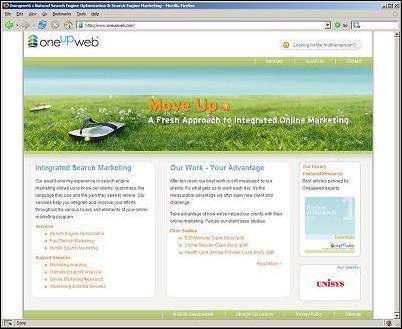 We're building up from our rock-solid foundation in search marketing
Lake Leelanau, MI (PRWEB) February 14, 2006
Oneupweb.com Presents A Fresh Approach to Integrated Online Marketing
Lake, Leelanau, MI (PRWEB) February 14, 2006 -- Oneupweb, the trusted leader in search engine marketing (SEM) and optimization (SEO), today announced radical changes to its brand, reflecting the company's expanded capabilities in usability, online advertising and research. New branding is now live on Oneupweb's redesigned website, Oneupweb.com.
"We're building up from our rock-solid foundation in search marketing," explains Oneupweb founder and CEO Lisa Wehr. "The logo and the site reflect the organic growth of our talent, our services and the fresh approach we take with client campaigns. Bright. Clear. Refreshing."
New Logo Mark Points Towards Growth
Oneupweb's new mark uses the same colors, modifying and pointing the four squares upwards. The mark reflects the new tagline, Move Up.
"Our mark was appropriate for our solid, best-practices approach," says Wehr. "After five years, though, our business and our expertise have expanded enormously. Our business has changed. Our symbols needed to keep pace."
Additionally, formally identified supporting services are branded, sporting colorful brand marks. Branded expanded services include: uSage, usability services; Mobile-i-zation, mobile search marketing; eyeGroups & A:B Labs, online marketing research; and UpLift, online advertising, media-buying and creative design.
Limitless Marketing Horizons Explored on the Newly Designed Oneupweb Site
Perhaps the most important site design change is the navigation on internal pages. Most of Oneupweb's content is two clicks from the home page. The navigation tops the pages so visitors can easily see the scope of the information and move between topics.
"Just like we do with clients, we went to the data first," says Wehr. "The usability studies drove the structure. We are constantly interviewing clients, prospects and even people who didn't buy from us to determine what about our brand is attractive to our target audience. And then we designed around those characteristics."
Oneupweb's content is crisp and clear. Readers at every level of search marketing expertise will be comfortable with the information. Clearly, the copy targets marketing executives, helping them to understand how search engine optimization and marketing fit into the overall marketing mix. Short definitions and case studies on each of the service pages give time-starved senior executives answers quickly. The color palette is easy to read, using soft blues and greens with spots of orange for emphasis. Flash banners continue the fresh tone and add some fun: dandelion seeds float through the air, ladybugs crawl on sunflowers and sunlight breaks through tree leaves.
"Our goal was to make the tone of the site sound like us: smart, helpful, fun-loving marketing experts," says Wehr. "While a website will never be able to capture what it's like to work with us, we hope it will let you see how working with Oneupweb is different."
About Oneupweb
Oneupweb creates integrated online marketing plans that include natural search engine optimization, paid search marketing, mobile search marketing, online marketing research, marketing analytics, online advertising creative and online media services. Clients include Unisys, Maritz, LasikPlus, Schwan's, Silkflowers.com and Imagistics, among others. Oneupweb is the only two-time winner of the prestigious ClickZ Best Search Engine Marketing Vendor Award. And company founder and CEO, Lisa Wehr, an Ernst & Young Entrepreneur of the Year, has been named to BtoB Magazine's Who's Who List twice and recognized as a Leader & Innovator by Lawrence Technological University. The company publishes an SEO / SEM newsletter OneUpNews and blog StraightUpSearch. Oneupweb is a privately held company located in Michigan. For more information on Oneupweb, please contact 231.256.9811 or visit Oneupweb.com.
###