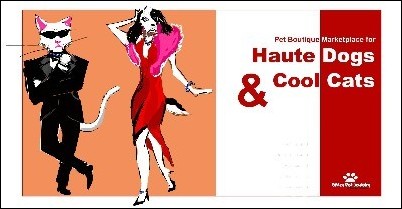 They're a unique piece of wearable art for the celebrity pet whose owner will appreciate the distinctiveness of handcrafted, one-of-a-kind jewelry. No two pieces look exactly alike
San Ramon, CA (PRWEB) February 27, 2006
Glitzy Pet Jewelry, the pet boutique fashion jewelry design house that is quickly gaining attention in the pet fashionista world and the press alike, today announced that its haute pet jewelry will be inducted into the coveted celebrity gift bags given to celebrities attending this year's "Night of 100 Stars Oscar Gala."
Glitzy Pet Jewelry was invited to participate in this popular event by Nancee Borgnine, daughter of Oscar winner Ernest Borgnine and VP of Marketing for Hollywood Connection, a leader in television, film, and music event promotion services.
Each sparkling, chic pet necklace consisting of myriad faux pearls and crystals is a sparkling color palette fitting for the most discriminating Hollywood pooch or diva cat. The pet jewelry is high fashion that's durable enough for everyday. "They're a unique piece of wearable art for the celebrity pet whose owner will appreciate the distinctiveness of handcrafted, one-of-a-kind jewelry. No two pieces look exactly alike," says Deborah Idzi, Founder and Creative Director of Glitzy Pet Jewelry.
"Since dogs as well as cats are putting on the Ritz these days in stylish haute couture, it follows that the well-dressed pooch or chic cat will be pampered with glitzy, one-of-a-kind bejeweled accessories," added Deborah.
"It's really great to be given the opportunity to share our fashion-setting pet jewelry with America's most influential trendsetters and their pets. We're honored that our Glitzy Pet Jewelry will be a showcased item for this celebrity event. There will be a product showcase room where celebrities will see our pet jewelry displayed and get a 'hands-on' experience," stated Deborah.
For additional information on the news that is the subject of this release, contact Deborah at Glitzy Pet Jewelry. Click quick to order your own Oscar Pet Jewel.
About Glitzy Pet Jewelry
Glitzy Pet Jewelry, East Bay designer of pet jewelry and accessories, offers "Haute Pet Jewelry and Couture Dog Collars" -- chic, one-of-a-kind jewels and decorative collars uniquely designed for pet fashionistas with discriminating taste. Glitzy pet necklaces are designed using high quality Swarovski crystal, freshwater pearls, fashionable faux pearls, crystal glass beads and whimsical ornaments. Couture pet collars start with ornate designer and passementerie trims, glitzy sequins, sparkling rhinestones, fabulous faux fur, and Swarovski pearls and become fabulous pet neck attire. Glitzy Pet Jewelry can be viewed online at http://www.glitzypetjewelry.com.
###