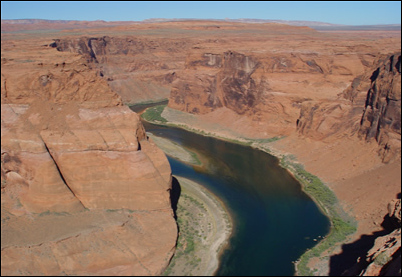 We plan to release more seasonal guides
Page, AZ (PRWEB) February 23, 2006 –-
Grand Canyon.com knows their inaugural Spring Travel Guide will challenge some pre-conceived notions about Grand Canyon vacations. Karlyn Bunting, President of http://www.GrandCanyon.com, believes that "informed travelers are happy travelers." The Spring Travel Guide is designed as a companion piece to the company's popular Grand Canyon Top Tours Brochure, which highlights popular Grand Canyon tours from Las Vegas to Grand Canyon West, as well as to the South Rim and North Rim.
Many visitors have last minute questions that this Travel Guide answers. Should you pack shorts or sweaters for your spring break at the Grand Canyon? Will your cell phone work at Grand Canyon National Park? How long does it take to drive from Las Vegas or Phoenix to the Grand Canyon? Whether you've had your spring break vacation planned since last spring, or you're just now getting started, the free Grand Canyon Spring Travel Guide has key helpful tips.
Karlyn observes that, "Thus far, response has been very strong." Sherry G., a flight attendant from Illinois who received an advance copy of the guide, rates it as "outstanding" and "a detailed yet concise planning tool for everyday travelers. It walks you through the process of getting to the Grand Canyon logically, like which airports you can fly into, driving directions from surrounding cities, then getting around once you get there." "We plan to release more seasonal guides," says Karlyn, "which will be geared toward vacationers who travel around major holidays such as Memorial Day, Fourth of July, Labor Day, Thanksgiving and Christmas."
In addition to practical tips, the easy-to-read 13-page illustrated guide available in Adobe PDF format also offers up a few pleasant surprises. Like what restaurants the locals enjoy, how to cut down on wait time at the entrance gates, how to find the best gas prices, and what to do if Mom and Dad want to see the Grand Canyon, but the kids want to play in the water.
Karlyn explains, "when you live at a place for as long as we have, you notice things, especially at certain times of the year. For example, a common misconception held by some spring break travelers is that the Grand Canyon is going to be like Phoenix, and they pack nothing but summer clothes." Other potential shockers? "How busy the Grand Canyon hotels are," says Karlyn. "Matter of fact, our guide just tells folks flat out that if they don't have lodging inside the park booked by this point, they're unlikely to get it. At this stage, you're better off looking to the gateway communities (cities and towns near the park), like Tusayan, Williams, Flagstaff or Page/Lake Powell."
Grand Canyon.com is a Southwest destination specialist based in Page, Arizona whose objective is to help visitors get the most out of their Grand Canyon vacations. They book Grand Canyon hotels, tours and activities, and distribute free information about the South Rim, North Rim, and Grand Canyon West. Grand Canyon.com also books Grand Canyon tours out of Flagstaff, Sedona, Phoenix/Scottsdale and Lake Powell.
To download your free Grand Canyon Spring Travel Guide and Grand Canyon Top Tours Brochure, simply go to http://www.GrandCanyon.com and click "Free Spring Travel Guide" or call (866) 944-7263 (toll free in the US) or (928) 645-6845 (International).
# # #