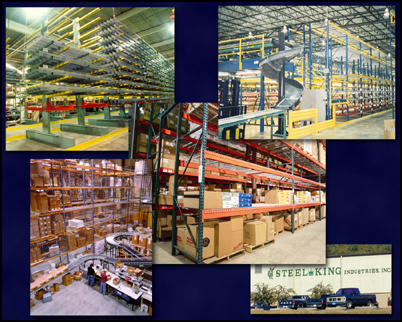 Because warehouse storage and material handling have a pivotal impact on a business, manufacturers and distributors often turn to pallet storage rack specialists
Stevens Point, WI (PRWEB) February 23, 2006
Whether setting up or replacing storage pallet rack systems, warehouse operators are often confronted with a dazzling number of choices. That can be troublesome, since the selections they make dramatically affect "throughput," and hence the profitability of the operation. On the other hand, they may be offered limited choices because a pallet rack manufacturer or dealer specializes only in certain types of pallet racks, another problematic scenario.
"Because warehouse storage and material handling have a pivotal impact on a business, manufacturers and distributors often turn to pallet storage rack specialists," says Arlin Keck, Corporate Engineer at Steel King, a leading manufacturer of pallet rack systems. "They rely on material handling consultants, dealers or rack manufacturers like us to ensure their warehouse systems fit their needs."
Consider storage density
Choosing the right storage racks begins with considering the flow of merchandise, which will dictate density requirements or how 'tightly' the merchandise should be stored. From that determination cascades a series of specifications: the material and style of storage racks, pick systems, ancillary material handling, etc.
Warehouses with high-density storage solutions usually have large turnover of inventories during specific intervals or seasons. During these times, merchandise is often stored en masse in large bays with few access aisles to maximize floor space.
Conversely, lower-density warehousing is appropriate for parts or retail distribution centers where custom orders are picked continuously to fulfill JIT or other time-critical requirements. "We have bulk shipments coming in one side and customized packages going out," explains Keck "Often, near the center of the DC, are rack-supported pick modules that specialize in the re-packaging effort."
Selecting the appropriate rack system
Depending on density requirements, a specific pallet rack system -- or combination of systems -- may best serve the warehousing and shipping needs of a business.
The most popular type of rack is Selective Rack, so called because it allows easy selection, normally by service (truck) aisles. Selective Rack does not make the most complete use of floor space due to the aisles required, but may be a solution for many companies.
A Drive-In Rack increases density and is utilized where group pallet selection is more likely than individual pallet selection. With Drive-in Rack, loading and unloading within a bay must be done from the same aisle. A Drive-Through Rack, however, permits loading and unloading from both ends of a bay.
Cantilever Rack is primarily utilized to store bulk items such as building materials (lumber, pipe, drywall) and furniture. It is commonly found in home centers and furniture warehouses.
Structural Requirements
"It is important to consider and solve structural requirements," Keck adds. "This includes building obstructions, office and door locations, seismic conditions, etc. "At times, a variety of rack systems of varying densities provide the best solution. Often, a customized or modified rack system is needed."
Also, there are two types of steel that are used in the majority of pallet racks. "Roll-form steel" rack frames and beams are fashioned from steel coils and bent into a tubular shape. "Structural steel" frames and beams are hot-rolled into channel at the mill. According to Keck, most pallet rack manufacturers offer one or the other, but Steel King offers both.
For more information contact:
Donald J. Heemstra
Steel King Industries, Inc.,
2700 Chamber Street
Stevens Point, WI 54481
Phone: (800) 826-0203
Fax 972-660-4387
Web site: http://www.steelking.com
# # #