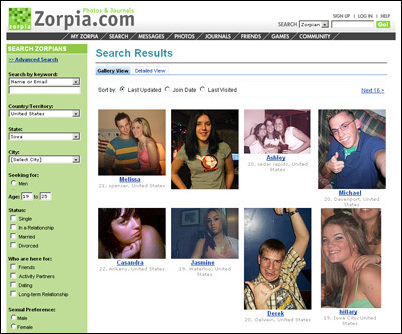 Our community has shown their favor in our new search engine. It will definitely help create even more publicity and membership to Zorpia.com
(PRWEB) February 27, 2006
Zorpia.com recently launched a new system that is changing the search experience for people around the world for meeting new people and for tracking down long lost friends. Users are calling the search engine "a new addiction". Zorpia's unique technology improves upon other popular search engines because it allows keyword and cross-functional searches.
Jeffrey Ng, Founder and CEO of Zorpia, states, that the new search engine substantially increases the number of page views on the search page, according to Google Analytics. "The new search is expected to boost interactivity within Zorpia as well as bring more fun and excitement into the search process," says Ng.
Aside from standard search options such as username, age and location, Zorpia also allows users to input names, interests, occupations and religion into one search. It features a combination of search and browse functions that works in one entity.
Zorpia enthusiast Ryan McNary loves the new system.
"Zorpia now has a much easier and user-friendly search engine. Other search engines are limited in their options. Plus, they're unstable at times" McNary says.
Zorpia member Domino Blaske also shares his experience.
"The search results are sorted by the time of your last updated entry. For example, I recently wrote an entry about how my grandmother just passed away, and because of the new system, I received a lot of support from other Zorpia members. It was a really good feeling," Blaske says.
Another Zorpia user, Arlo Begaye, says the search engine allows him to input specific criteria to meet new people that are compatible with him.
"Once users get the hang of it, it will get addicting," says Begaye.
Just 24 hours after the feature was released, Zorpia experienced a 30% increase in overall page views; the search page alone generated a 50% increase in page views and an 18% boost in number of visits.
"The result demonstrated instant effectiveness of the enhanced search feature. Members' interaction was also intensified by the new functionality," Mr Ng said. "Our community has shown their favor in our new search engine. It will definitely help create even more publicity and membership to Zorpia.com".
About Zorpia.com
Zorpia is a social networking website. It currently has 1.8 million users, 9.2 million photos stored and are receiving 2.5 million pageviews each day. It provides a community setting for users to share unlimited photos, post journal or forum entries, and customize personal profiles and skins. Their userbase is internationally diverse, most prominently with 15% from the United States, 10% from the United Kingdom, 10% from Canada, 10% from Singapore and 10% from Malaysia. It is similiar to myspace, flickr, friendster, facebook, hi5, xanga and tribe.net.
###