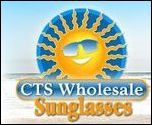 With such high demand for rhinestone eyewear, we are pleased to offer our new line.
Salem, OR (PRWEB) March 30, 2006
CTS Wholesale Sunglasses , an online wholesale company selling high quality replica sunglasses, announces its new line of limited edition rhinestone wholesale sunglasses.
The rhinestone replica sunglasses come in 15 different styles, each in various colors, inspired by popular styles by Dolce & Gabbana, Versace, Chanel, Gucci and other famous brands. Prices range from $24 per dozen to $32 per dozen.
"Rhinestone glasses are a very hot trend right now," says Kirk Bachelder, owner of CTS Wholesale Sunglasses. "With such high demand for rhinestone eyewear, we are pleased to offer our new line."
The limited edition styles provide UV 400 protection, blocking 100% UVA and UVB rays.
About CTS Wholesale Sunglasses
CTS offers a collection that reflects today's hottest styles and fashion trends. With respect to product quality, the company's goal is to ensure that its customers receive the highest quality eyewear and the best products available on the market today. Products include metal and plastic wholesale sunglasses , accessories (cases, repair kits, etc.), clip-on glasses, display racks, goggles, kids glasses, MP3 player glasses, and more. CTS' products can be successfully sold at various locations, including concerts, street fairs, carnivals, parades, flea markets, mall kiosks and much more.
CTS' replica sunglasses can be compared to styles by popular brands such as Bolle, Calvin Klein, Coach, Christian Dior, Dragon, Kenneth Cole, Nike, Ray-Ban and more.
For more information about CTS Wholesale Sunglasses and its new line of rhinestone replica sunglasses, please visit http://www.CTSWholesaleSunglasses.com.
Media Contact:
Kirk Bachelder
CTS Wholesale LLC
503.364.3486
# # #