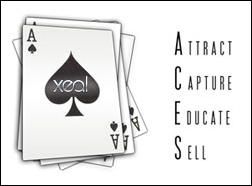 Tulsa, OK (PRWEB) March 31, 2006
Xeal has created their own proprietary and proven marketing system, "The 4 ACES", to create leads and sales for any business in the United States, UK, and Canada. To prove their system works, Xeal is giving away over $30,000 worth of SmartExpress web site designs in monthly drawings for a year.
Smart marketing experts know that there is no point increasing web site traffic by 20% if 40% of order conversion is lost in exchange. Xeal's "The 4 ACES" is an acroynm that Tony D. Baker coined for his marketing philosophy "Attract, Capture, Educate, and Sell".
"It's not just about usability and search engine-friendly web site design anymore. It's about a comprehensive strategy designed to Attract, Capture, Educate, and Sell to your target market. Our unique proprietary strategy starts with a fresh new makeover of your existing web site design," said Tony D. Baker, President and CEO of Xeal Inc.
Starting in April, a drawing will be held every month and a new winner will be selected to receive a free SmartExpress web site design. Here's how it works:
The winner will choose a single page from their existing web site. This can be their homepage, a product page, a complicated form or data table, etc.
The winner will answer ten questions to help identify their goals and expectations for the SmartExpress redesign of their chosen page.
Based on the winner's business goals, Xeal will design a more effective, more usable, and more useful prototype of the page by adjusting the design, usability, structure, layout, copywriting, and flow according to "The 4 ACES".
Xeal will deliver the new web site design along with a summary "before and after" report displaying the new page and offering a before-and-after comparison explaining the benefits of the redesign.
To enter the drawing for a free custom web site design and challenge Xeal's "The 4 ACES" marketing system, visit http://www.Xeal.com/1000.
About Xeal Inc.
Xeal Inc. has been providing results-based precision marketing services to advertisers, agencies, and publishers throughout the United States and various countries around the world since 1995. Xeal's extensive advertising network consists of placements from search engines, web sites, radio, television, and print media. Through the Xeal network and proprietary technologies, Xeal helps advertisers create, plan, and execute innovative marketing programs that precisely target consumers and generate measurable results.
About Tony D. Baker
Tony D. Baker is Oklahoma's leading Internet marketing expert with over 750 clients and nearly ten years of Internet marketing experience. As an author and public speaker, Baker has written several ebooks and has spoken at conferences throughout the United States. Tony D. Baker founded Xeal Inc. and serves as President and CEO. Memberships include the Tulsa Chamber of Commerce and the Tulsa Press Club.
###