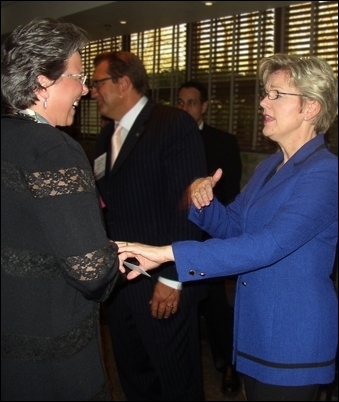 They have a tremendous entrepreneurial spirit and I hope that they continue to succeed and develop in Michigan.
Lake Leelanau, MI (PRWEB) April 20, 2006
Search engine optimization (SEO) and marketing (SEM) pioneer Lisa Wehr and her company Oneupweb were honored last evening by Michigan Governor Jennifer Granholm and 500 federal, state and business dignitaries as one of 50 Companies to Watch in Michigan. The award, sponsored by The Edward Lowe Foundation, recognized companies for innovation and growth in Michigan's rapidly changing economy. This second annual award was presented in association with the Michigan Economic Development & Technology Center, Small Business Association of Michigan and the U.S. Small Business Administration.
The awards panel selected the Michigan 50 winners based on performance in the marketplace, innovation, valuable contributions to the community or economy of the state, and/or significant potential for achievement. Candidates were judged by their growth, leadership, innovative products and practices, community service and environmental improvement.
"Working through the internet means we can live anywhere," says Oneupweb CEO Lisa Wehr. "Michigan's beautiful landscape, creative, hard-working workforce and entrepreneurial business climate provided us with all we needed to succeed. We hope our prosperity, honored by this award, encourages more businesses to take advantage of what Michigan offers."
In the 21st Century Jobs Fund, Governor Jennifer Granholm and the Michigan legislature mapped out the largest investment in diversifying our economy this state has ever seen. The fund seeks to invest more than $2 billion in public and private funds to develop new sectors of our economy - sectors largely represented by companies like Oneupweb and the other companies making up this year's Michigan 50 Companies to Watch.
"Oneupweb is a great example of the types of companies that we want to grow in Michigan," said Granholm. "They have a tremendous entrepreneurial spirit and I hope that they continue to succeed and develop in Michigan."
Growth and innovation are terms synonymous with Oneupweb since its beginning a decade ago. As previously reported, 2005 sales rose 166%, and in 2006 the company plans to triple the size of their current state-of-the-art international headquarters building in Lake Leelanau in Michigan's scenic Leelanau Peninsula. It's the company's fifth major physical expansion in four years, made necessary by growth in sales, services and innovative new products such as ROI trax™ online marketing tracking software.
Honored twice in the last three years by ClickZ Magazine as "Best Search Engine Optimization Firm", 2005 Ernst and Young Entrepreneur of the Year winner Lisa Wehr takes a practical approach to her recent awards. "We are indeed pleased and humbled by this recognition, but as a service company our greatest award remains the ongoing confidence and approval of our clients."
The Michigan 50 was the first award to emphasize exclusively the importance of second-stage companies (between 9 and 99 employees, sales of $750,000 to $50 million). Second-stage companies generate nearly all of the new jobs in the U.S. each year.
About Edward Lowe Foundation
The Edward Lowe Foundation, headquartered near Cassopolis, Michigan, was established by Edward Lowe in 1985. The foundation champions the entrepreneurial spirit by encouraging second-stage business owners to get PeerSpectives® on their businesses. One of the foundation's most recent efforts is 50 Companies to Watch in Michigan, an awards program that recognizes vital, but often overlooked, drivers of the state's economy — growing, second-stage companies. These enterprises are the key creators of sustainable ("net") new jobs. The awards are sponsored by the foundation on behalf of the Michigan Celebrates Small Business, a cooperative effort among several economic-development, not-for-profit, and education organizations.
About Oneupweb
The trusted leader in search engine optimization and marketing, Oneupweb creates integrated online marketing plans that include natural search engine optimization, paid search marketing, mobile search marketing, online marketing research, marketing analytics, online advertising creative and online media services. Clients include Unisys, Maritz, Schwan's, Silkflowers.com and Imagistics, among others. Oneupweb is the only two-time winner of the prestigious ClickZ Best Search Engine Marketing Vendor Award. And company founder and CEO, Lisa Wehr, has been named an Ernst & Young Entrepreneur of the Year and to BtoB Magazine's Who's Who List twice and also recognized as a Leader & Innovator by Lawrence Technological University. The company publishes a monthly newsletter entitled Online Marketing Brief (http://www.onlinemarketingbrief.com) and blog StraightUpSearch (http://www.straightupsearch.com). Oneupweb is a privately held company located in Michigan. For more information on Oneupweb, please contact 231.256.9811 or visit Oneupweb.com.
###