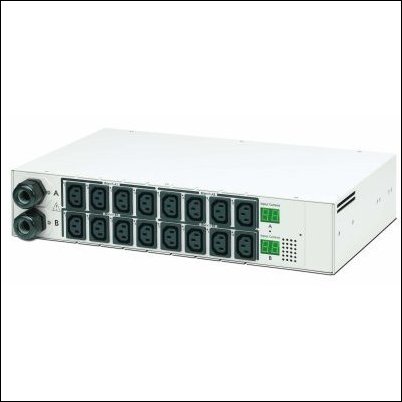 The transfer from one power source to the other is seamless to the connected equipment which ensures equipment uptime for your mission critical applications.
Reno, NV (PRWEB) April 25, 2006 -–
Providing redundant power sources to single-cord devices, Server Technology, Inc.'s new Sentry Fail Safe Transfer Switch™ (FSTS) product family meets the challenges in today's data center: uptime, redundancy and equipment availability. The Sentry FSTS accepts two input power feeds, from separate AC circuits, with each circuit providing power to one half of the connected devices. With the Sentry Fail Safe Transfer Switch™, if either power in-feed becomes unavailable, sags or surges it then auto-switches to the remaining power in-feed to reestablish power to the devices attached to the "downed" power in-feed. The transfer from one power in-feed to the other is seamless to the connected devices. An interruption or power problem on either in-feed will not affect the equipment's uptime or performance.
Server Technology's new FSTS provides a new proprietary architecture for power in-feed sharing. This feature results in the switching of only half the receptacles, and their associated load, in the event of a power in-feed failure. This reduces wear on the relays as competitive products are required to switch the whole load from the "downed" in-feed over to the remaining "live" in-feed. Server Technology's FSTS also utilizes our patented arc-suppression technology. This feature prevents arcing between the relay points and contacts during power in-feed transfers, thus minimizing wear and again increasing the operating life of the relays.
"Our failsafe design insures that only 50% of the transfer switches rated current is required to be switched over in the event of an in-feed loss," explains Jim Maskaly, Engineering Manager of Server Technology's product development. "The transfer from one power source to the other is seamless to the connected equipment which ensures equipment uptime for your mission critical applications."
The FSTS family features include 30 Amp models, 120 VAC, 230 VAC and 208 VAC power input, branch circuit protection, 8 and 16 outlets, dual power in-feed, and input current monitoring. The Sentry FSTS performs true RMS measurements when monitoring current. True RMS is the most accurate way to measure dynamic waveforms. The local LED's showing the current values make it easy to ensure that each in-feed is only loaded to 50% capacity.
The Sentry Cabinet Distribution Units (CDU's) were the first family of cabinet-level power distribution units to provide 30-amp power distribution (110V and 208V, 208V 3-Phase) directly to the equipment cabinet while providing Branch Circuit Protection within the CDU. The Sentry CDU's are also the first power distribution units to meet the stringent requirements of the National Electric Code (NEC) and Underwriters Laboratories (UL) 60950-1, which is now required of all new 30-amp rack-level PDUs.
About Server Technology
Server Technology, Inc. designs and manufactures intelligent power distribution products for enterprise data centers, service providers and branch office locations. Founded in 1984, Server Technology is recognized as a leader in innovative Remote Power Management solutions. The company's line of Sentry™ power products eliminates unnecessary trips to remote locations and minimizes the impact of locked-up internetworking equipment on business critical networks, combining intelligent power distribution, remote management and power measurement. Server Technology is located in Reno, Nevada and can be reached at (800) 835-1515, or on the Web at http://www.servertech.com.
NOTE TO EDITORS: High-resolution images are available for publication. Please email Calvin Nicholson at calvin.nicholson-at-servertech.com for more information.
Contact:
Calvin Nicholson, Marketing Manager
calvin.nicholson @ servertech.com
Server Technology Inc.
http://www.servertech.com
1-800-835-1515
###