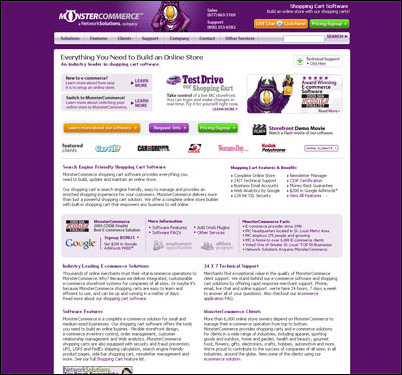 We expect the 5.0 release of our DataPort to be a huge step forward in allowing our customers to more efficiently manage their storefronts and large amounts of data
Belleville, IL (PRWEB) May 1, 2006 -–
MonsterCommerce, a Network Solutions company, has launched the latest version of its successful DataPort application. DataPort 5.0 is a highly effective data import and export application for e-businesses. One of its best features is that it gives online store owners the power to complete Shopzilla, BizRate shopping, and Froogle data feed uploads for increased site traffic.
DataPort 5.0 users also can perform bulk imports of tax information based on customer state or zip code, manage customer profiles, create new products, and pull shipping and order information directly into popular shipping applications such as Endicia (Dazzle), TrueShip, and UPS WorldShip. The newest version of DataPort is designed to save time, integrate steps that many business owners previously did manually, and allow for easy exports such as Froogle data feed.
"We expect the 5.0 release of our DataPort to be a huge step forward in allowing our customers to more efficiently manage their storefronts and large amounts of data," said Dan Kennedy, Vice President of Online Services for MonsterCommerce.
MonsterCommerce provides shopping carts and other ecommerce solutions for clients in industries including apparel, gourmet food, gifts, electronics, automotive, and many others. MonsterCommerce complies with the most stringent security standards in the industry. The company recently became certified through Visa's Cardholder Information Security Program (CISP), the highest standard of security set directly by Visa.
Web entrepreneurs using DataPort 5.0 can significantly increase their site traffic from BizRate shopping, Google Base, and ecommerce Shopzilla because DataPort allows order and product feeds to these third parties. The application provides a live data feed from users' computer desktops to their online storefronts, avoiding the need for manual data entry to accomplish a Froogle data feed or other tasks. Customers can sign up for a free trial of the software by visiting MonsterCommerce.com.
About MonsterCommerce, a Network Solutions company:
MonsterCommerce started helping small businesses achieve an online presence in 1998. Since that time more than 5,500 companies have chosen MonsterCommerce for their comprehensive e-commerce services including a customized storefront layout, an easy-to-follow product management system, logo and website design, search engine optimization, and more. These clients range from small, at-home businesses to nationally known companies and organizations like NASA, Kodak Polychrome and John Deere. In 2006 MonsterCommerce teamed up with Network Solutions, a pioneer in domain registration, as well as hosting, designing, and marketing businesses for the web.
###