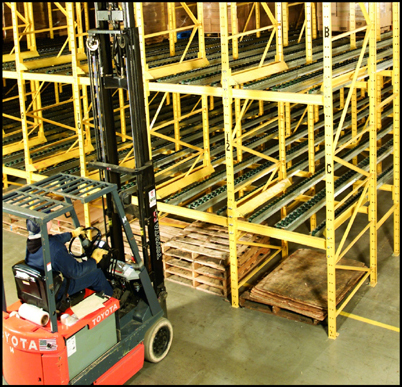 I chose Steel King's system because it was a lot sturdier than the other systems that I looked at. We know it's going to last
Stevens Point, WI (PRWEB) May 3, 2006
There are numerous factors to take into account when planning storage and space within a warehouse. Traditionally, these would consist of floor space utilization, vertical space utilization, and pallet rack item placement ensuring the least amount of travel by personnel and forklifts.
In addition, there is another element which comes into play especially with perishable or dated items such as groceries, meat, candy or pharmaceuticals; the first items in should be the first items out, so that no stock goes bad or is wasted. For this type of application the next generation in pallet racks -- pallet flow storage systems -- is vital.
Ed Stumpner is the Inventory Control and Dock Manager with Grassland Dairy, the largest privately-held butter manufacturer in the U.S. He says that prior to the implementation of a flow storage system, "we were only able to double-stack on the floor and were wasting all of our height space", explains Stumpner. "We had to store stock off-site as well."
When a pallet is loaded on one end of the system, flow storage uses gravity to automatically move it to the front of the rack as other pallets ahead of it are shipped out. The pallet remains in the order it was loaded. In this way it is shipped out ahead of all the pallets that were loaded after it.
A pallet rack flow storage system can even eliminate the addition or use of extra warehousing. "We put in a 12-bay wide 3-high racking system, 20 pallets deep, which more than doubled our existing space. We were able to curtail off-site storage. We also no longer have to rotate any stock. It's first-in, first out," explains Stumpner.
Additionally, pallet flow systems minimize motion previously wasted by warehouse personnel having to travel to a specific place and make sure they are pulling the correctly dated item.
"It saves us drive time," says Stumpner. "The pallets are always flowing to where we're loading trucks. We're saving man-hours by not having to drive all the way to the end of the warehouse to get what we need. It's right there to load onto the truck."
Flow storage systems consist of two different elements: rack structure and flow rails. The flow rails are set within the rack structure at a slight incline, which allows pallet loads placed on one end of the rack to move, by gravity, to the other end of the rack. Wheels or rollers are mounted within the rails along with self-energizing brakes to control pallet speed. As a pallet is unloaded at the front end, the next pallet in line moves forward.
Steel King, a leading pallet rack manufacturer known for their durability, strength, and custom-designed systems, was one of the first manufacturers to bring the separate elements of flow storage together; manufacturing both the racks and the flow rails to combine into one system.
According to Dick DeFoe, Steel King's National Accounts Manager for Flow and Pushback, "Traditionally, a dealer would have to order the racks and flow rails separately to make a whole system, as well as dealing with a third entity in an installer. Steel King provides a single turn-key system, designed specifically for a facility, and handles the installation as well. The dealer only needs one contact."
Construction is also carefully engineered to take into account pallet rack weight and the movement and stress of flow control. "I chose Steel King's system because it was a lot sturdier than the other systems that I looked at. We know it's going to last," adds Stumpner.
###