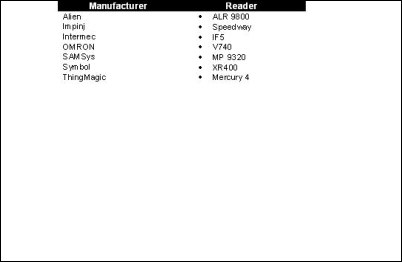 Dulles, VA (PRWEB) May 3, 2006
ODIN technologies, the leader in the physics of RFID testing and deployment, today released the Gen 2 RFID Reader Benchmark, sponsored by Unisys. The report presents analysis of eight of the leading EPC (electronic product code) compliant Gen 2 RFID readers. The benchmark was developed to provide end users with objective insight into how well readers actually work in the field and what criteria should be evaluated when making reader selection decisions. The Benchmark is the first scientific and objective comparison of how Gen 2 RFID readers work in common use cases such as dock doors, conveyors and stretch wrappers and provides detailed insight into which readers simply work best.
ODIN technologies President and CEO Patrick J. Sweeney II commented, "If you choose the wrong reader, you have little chance of getting high read rates. Without high read rates your accuracy will be low and the data will be of little use. Not all Gen 2 readers are alike. The ODIN Gen 2 RFID Reader Benchmark cuts through vendor hype and compares readers side by side leveraging scientific methods and the physics of RFID. The benchmark is designed for end users to help them save time and cost in their reader selection process. And, it can help you avoid the costly mistake of getting your reader decision wrong. ODIN technologies' RFID Benchmark Series is the most read and referenced source for independent evaluation of RFID equipment. We hope the Gen 2 RFID Reader Benchmark will become your trusted source for objective evaluation of RFID readers in the market today."
The ODIN technologies team wrote RFID for Dummies to better educate the industry and improve the quality of RFID deployments. ODIN continues to produce benchmark testing to provide sound, factual data to end users and vendors working to improve RFID system performance.
Peter Regen, vice president, Global Visible Commerce, Unisys remarked, "The timing for ODIN's Gen 2 reader benchmark could not be better. Three hundred Wal-Mart suppliers just gathered in Dallas to kick off their RFID programs. Wal-Mart's first wave of suppliers is in the midst of a Gen 2 transition. The Department of Defense is looking to roll out two dozen supply depots. Many others are getting started on ROI based RFID pilots. Gen 2 RFID readers are on everyone's mind. Unisys is proud to sponsor another industry first for objective and scientific evaluation of Gen 2 RFID equipment. By helping end users select the right RFID readers, we expect ODIN research to drive higher performing and more successful pilots that will drive long-term adoption."
Benchmark Contents: scientific and use case test results, industry analysis and much more
The benchmark includes performance testing related to distance, power output, receive sensitivity, interference rejection / dense reader mode, and time to read tag population. Use case tests replicating multiple dock doors, conveyors and stretch wrappers are also included. In providing up-to -date industry analysis, ODIN technologies also reviews industry news such as the recent acquisition of SAMSys by Sirit, AWID's product recall, and Wal-Mart and Albertsons recent Gen 2 reader selections.
Benchmark Participants: 8 Manufacturers minus one
The full report includes Gen 2 RFID readers from seven manufacturers: Alien Technology, Impinj, Intermec, OMRON, SAMSys (now Sirit), Symbol and ThingMagic. We used the firmware and testing utilities recommended by the manufacturers and conducted the testing at the RFID industry's leading lab, ODIN Labs in Dulles, Virginia. AWID's results were removed from the data tables due to its recent product recall as non-FCC compliant. The specific readers in the report include:
Accessing the Benchmark
The Gen 2 RFID Reader Benchmark is available for download now at ODIN technologies Store (http://www.ODINtechnologies.com/store).
Unisys: Sponsor of the Gen 2 RFID Reader Benchmark
Unisys is the official sponsor of the Gen 2 RFID Reader Benchmark building on its long-standing partnership with ODIN technologies. Unisys also sponsored the RFID Gen 2 Tag Benchmark published in January 2006 and the RFID Handheld Reader Benchmark published by ODIN technologies in June 2005.
ODIN technologies President and CEO Patrick J. Sweeney II commented, "Unisys has become a positive force for RFID education and adoption. Its leading active RFID work with the U.S. Department of Defense combined with experience in passive RFID in the pharmaceutical and consumer goods industries has led to practical RFID uses that evolve into long-term operational advantages for its clients. As specialists in RFID testing and deployment, ODIN technologies highly values our partnership with Unisys based on its RFID experience, support capabilities and global reach."
About Unisys
Unisys is a worldwide technology services and solutions company. Our consultants apply Unisys expertise in consulting, systems integration, outsourcing, infrastructure, and server technology to help our clients achieve secure business operations. We build more secure organizations by creating visibility into clients' business operations. Leveraging Unisys 3D Visible Enterprise, we make visible the impact of their decisions – ahead of investments, opportunities and risks. For more information, visit http://www.unisys.com.
About ODIN technologies
ODIN technologies is the leader in the physics of RFID infrastructure testing, solution design and deployment. ODIN technologies leverages its team of RF engineers, physicists and software developers combined with its laboratory facilities to provide RFID consulting services to major retailers, consumer goods manufacturers, United States government agencies and other RFID early adopters. In addition to client deployment services, ODIN technologies is also the publisher of the RFID Benchmark Series, the industry's first and most referenced head to head performance analysis of leading RFID tags and readers. ODIN's President and CEO, Patrick J. Sweeney II is also author of RFID for Dummies published by John Wiley & Sons. ODIN technologies is privately held and has labs and offices in Dulles, Virginia and Budapest, Hungary. For more information visit: http://www.ODINtechnologies.com.
Contact:
Michelle Reilly
ODIN technologies, Trusted RFID Experts
703-966-7067
###