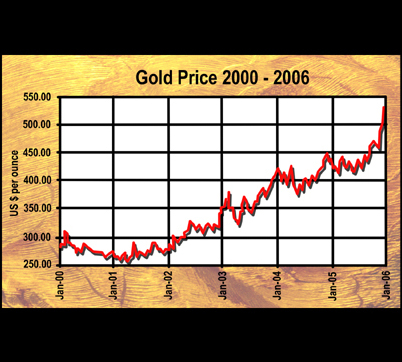 This has resulted in a flight to gold brokers and gold investments.
Studio City, CA (PRWEB) May 8, 2006
The old Chinese curse, "may you live in interesting times", has particular relevance to the current epoch of U.S. history. There's a lot going on right now, much of it scary. Major investors and banks around the world are responding to the events of our perilous age by sinking their dollars, deutschmarks and yen into gold, silver and palladium. Bill Gates, Warren Buffet, and billionaire speculator George Soros to name a few, are leaping onto the gold investments bandwagon, driving the price of this precious commodity ever higher.
This is spurring a gold rush not witnessed since the Misery Index years of the 1970s. Many experts now view gold as an island of stability in a paper-based investment market growing stormier all the time. This bodes well with everyday folks who want to work with gold brokers to give their retirement accounts a precious metals hedge.
"People the world over are losing faith in politicians and currencies," says Marc Lubaszka, President/CEO of World Financial, a successful investment firm specializing in precious metals based in Studio City, Calif. "This has resulted in a flight to gold brokers and gold investments."
Paper is Passé
The U.S. dollar is currently worth only 20% of its value in 1970. Gold, on the other hand, has climbed from $35 an ounce to nearly $600. Unlike American dollars, a portion of the Euro is gold-backed -- a stability feature that has helped it outperform the dollar over the long haul.
"Gold prices are climbing right now because the Federal Reserve is printing dollars in flood proportions to keep the real estate market afloat," says Richard Russell, editor Dow Theory Letters. "This is creating inflation, which erodes purchasing power. All the world's central banks are inflating right now, encouraging gold investments by reducing confidence in paper globally."
Buy Without Getting Burned
Michelle Henderson, a talent agency owner in Los Angeles, understands the stakes when it comes to investing. "As an agent I work in a commission-based world, and have to invest in both people and ideas all the time," she says. "I invested in a diversified metals portfolio made up of palladium, silver and gold, and earned a profit of 38% with the palladium alone by following World Financial's advice."
There are gold brokers and then there are gold brokers. The best ones are accessible when needed and quick to call with information that affects the value of the investment.
Lubaszka says, "When selecting an advisor, check references and deal with gold brokers that take an active interest in you. World Financial, for example, offers a five-star customer satisfaction guarantee. If we fail to respond to a prospect's call or email within 24 hours, that person receives a silver American Eagle coin for free. A financial advisor's job is to ease the investment process and ensure customers get the most for their money. Those that actually do this are worth their weight in gold."
For more information about gold investments or other precious metals, contact World Financial at 12198 Ventura Blvd, Suite 200, Studio City, Ca 91604; (818) 264-4085; fax (818) 508-6597. Or visit http://www.worldfinancialdaily.com/
###