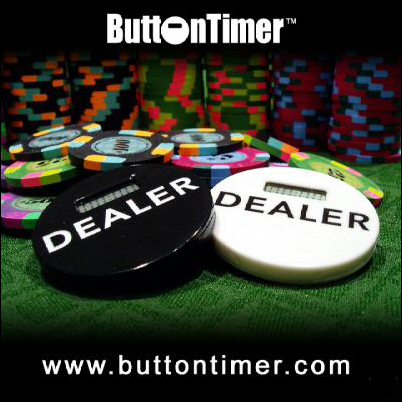 Aliso Viejo, CA (PRWEB) May 6, 2006
3zilla, LLC announced today the introduction of the first of-its-kind Texas Hold Em patent pending original invention for the poker tournament arena – the ButtonTimer™, an authentic casino dealer button with an integrated timer.
The ButtonTimer™ has the same look, feel, and size of dealer buttons used in casinos today with one significant difference, it has a built-in programmable timer which keeps track of the time and alerts the players during tournament play when time has elapsed. The invention combines two poker accessories into one to be used during poker tournament play.
The poker industry as a whole has been named the fastest growing sport in the world. Television specials such as the World Series of Poker, the World Poker Tour, and Celebrity Poker Showdown have popularized the game, namely Texas Hold Em, to millions of new people. As a result, the number of poker games in casinos, online, and in homes has also grown rapidly, resulting in record sales for poker chips and poker tournament accessories. Testing of the ButtonTimer™ throughout poker communities in Southern California has already generated significant interest and hundreds of pre-orders.
Managing Partner states, "For many years now, my friends and I have held weekly poker games every Friday evening. During one of our many games, I noticed what a convenience it would be if the dealer button could serve as a timer to keep track of the rounds. Being a life long enthusiast, I put myself in the position of the poker player, did my due diligence, and came out with a well thought out design for the market. It's simple and easy to use and we believe you will soon see the ButtonTimer™ in every professional and amateur Texas Hold Em tournament." For more information or to purchase the ButtonTimer™, please visit http://www.ButtonTimer.com.
About 3zilla
3zilla, LLC was founded in March 2005 by three entrepreneurs in Southern California who saw a need for a poker tournament ButtonTimer™ . With their expertise in the specialized backgrounds in Advertising, Marketing, Information Technology and Business Management, the company was able to quickly create and produce the ButtonTimer™. For more information on the ButtonTimer™, go to http://www.buttontimer.com.
For further information contact:
David J. Estiandan
(949) 349-9012
###