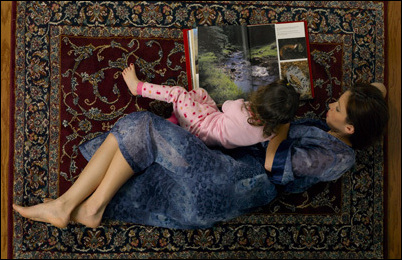 We are honored that Metropolitan Home included RugBuddy in their www.methome.com/article.asp?section_id=3&article_id=471&page_number=2 [Design 100] list
Atlanta, GA (PRWEB) May 16, 2006
Metropolitan Home magazine named RugBuddy™ to their May 2006 annual "Design 100" list -- a "quixotic collage" of interesting and unique people, places and things in the world of design. At number 20 on the list, RugBuddy™ is an ultra-thin heating mat specially designed for use under area rugs. A product of Speedheat® International, RugBuddy™ offers plug-n-warm simplicity and gentle radiant heat. The "warming wonder" is an ideal solution for taking the chill off of any space and is the only UL-listed (Underwriter's Laboratories) portable heating product in the world approved for use under area rugs.
"We are honored that Metropolitan Home included RugBuddy in their Design 100 list," said Pieter Jansens, Chairman of Speedheat International. "Met Home is a top-notch publication focused on the latest and greatest in modern design, and we are truly humbled to be included in their prestigious list. We see our inclusion as a positive nod to our unique product and to the growing popularity of electric radiant floor heating."
As alternative heat sources, such as electric radiant floor heating continue to gain popularity, RugBuddy offers an ideal no-fuss warming solution. You simply place the heating mat under your area rug and insert the GFCI protected plug into the wall. By gently warming from the ground up and allowing heat to rise naturally, RugBuddy takes advantage of the many benefits of radiant heating. The incredibly thin electric radiant heating blanket heats up in less than 20 minutes. One 5.5 x 8 foot heating panel can warm a 10 x 10 foot room, helping increase comfort while lowering energy bills.
"RugBuddy is part of my daily ritual, and I am addicted to it," says Michele Gray of Woodstock, GA. "We have a RugBuddy in our kitchen, and I look forward to putting my feet on it every day. I also enjoy the versatility of being able to turn it on or off whenever I want. Recently, I opened the windows to let in some cool spring air and turned off our main heating system, but I still had the RugBuddy warming my feet and taking the chill off the room. The gentle warmth is very therapeutic to me, and when my feet are warm, my whole body just feels better."
As Ms. Gray has discovered, enjoying luxurious warmth in any room of the home is simple and easy with RugBuddy because it is guaranteed safe no matter what type of floor covering is under your area rug (stone, tile, wood, laminate, vinyl, cork or carpet). The feather-thin floor warming mat is a mere 1/16" thick and consists of Generation4™ looped heating element laminated between two layers of polyester. The full-surround ground screen is an effective EMR, EMI and RFI shield, and GFCI protection provides absolute electrical safety.
All Speedheat products have undergone rigorous testing, including complete submersion in water while energized. Speedheat's products are all UL-listed and National Electric Code (NEC) compliant. The electric rug heating blankets can be placed on a timer and are waterproof as well as safe to the touch — even at their highest settings.
"The ability of RugBuddy portable heating mats to warm from the ground up produces evenly heated rooms that are more comfortable at lower temperatures allowing users to reduce traditional thermostat settings, thus saving energy and lowering heating costs," explains Peter Newman, President of Speedheat U.S. "Radiant heating also helps allergy sufferers by reducing the levels of dust, pollen, mold and other environmental pests spread by conventional forced air heating systems, making the home a healthier place to live."
RugBuddy plug-n-warm heaters were specifically designed to solve zone heating problems without the expense or mess of adding additional ductwork or baseboard heating units. Since the electric heating panels are hidden under the rug, they are virtually invisible and are completely safe unlike traditional space heaters.
RugBuddy heating panels come in five popular sizes:
Extra Large: 5.5 x 8 foot
Large: 5 x 7 foot
Medium: 3 x 5 foot
Runner: 2 x 7.5 foot
Small: 3 x 2 foot (perfect for under the desk in your office)
RugBuddy portable under rug heaters are available online at http://www.speedheat.us.
Speedheat® Also Offers Installed Warming Solutions for the Whole Home:
In addition to RugBuddy, Speedheat also offers electric radiant heating solutions that can be installed under virtually any flooring material including: carpet, ceramic tile, exotic stone, marble, granite, floating wood, laminates, vinyl and more. Speedheat systems are an energy efficient alternative heat source for any room including the basement, sunroom, bath, kitchen, bedroom and living room. Whether building a new home or remodeling, Speedheat's Generation4™ systems are easy to install in a single room or throughout an entire house. Speedheat offers the ultimate in flexibility, control and comfort. Other Generation4™ products include: TileWarm™, woodBEwarmer™ and CarpetMate™.
An Innovative Leader for Over 20 Years:
As inventors of Generation4™ electric radiant heating, Speedheat has produced quality solutions since 1985. Speedheat has offices in 10 countries and is currently heating more than 30 million square feet of space worldwide. Speedheat stands behind their products with their 100% commitment to quality and customer satisfaction.
Recent Publicity:
In addition to being selected for Metropolitan Home's "Design 100" list, Speedheat was also recently featured in This Old House Magazine's "20 of the Year's Coolest Tools, Gizmos and Gadgets" list. Speedheat also received publicity in the Chicago Tribune, House DIY (formerly do! magazine), Atlanta Home Improvement magazine, Atlanta's Points North magazine, HGTV's International Builder's Show, FloorRadio, FloorDaily.net, Rug Insider magazine, RugInsider.com and the Ask Andrea™ nationally-syndicated home improvement radio show.
Distributor Opportunities Still Available:
Speedheat is still seeking additional distributors in America. For more information, please contact Peter Newman at 1-888-WARM-FLOOR (1-888-927-6356) or visit http://www.speedheat.us.
Additional Information:
For general information, pricing estimates and installation scheduling, please contact Ingrid Weir at 1-888-WARM-FLOOR (1-888-927-6356) or visit http://www.speedheat.us.
###