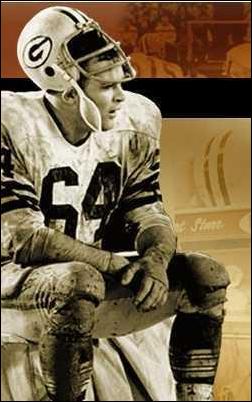 I have always had great concern and frustration regarding the condition of some of the retired players who help build the league. The physical and economic conditions they deal with due to the lack of a sufficient pension and disability compensation is reprehensible. I just want to try and do something about it personally to help some of the guys who need it most
Green Bay, WI (PRWEB) May 17, 2006
Jerry Kramer, a dominate player on Vince Lombardi's World Champion Green Bay Packers teams, returned to Lambeau Field to be presented with his Super Bowl I ring that was stolen 25 years ago. The ring was stolen during a flight from Chicago to New York.
The ring was returned to Kramer by Doug Allen, president and COO of Mastro Auctions, who, after learning the ring in the company's April auction was actually stolen, pulled it from sale and secured its safe return to Kramer.
"This is an historic heirloom from Super Bowl I and an important piece of my legacy, one that I had anticipated passing on to my children. I am so grateful to Mastro Auctions for securing its return to me. It is nice to know there are good people out there," said Jerry Kramer.
Jerry Kramer also announced that he will auction his replica Super Bowl I ring in an online auction at JerryKramer.com to establish a fund for retired players in need. Kramer had the replica made to replace the ring that was stolen and has worn it for many years. The ring is an exact copy of the original Super Bowl I ring.
Information about the Super Bowl I replica ring and the auction is now available. Message boards, photos and details of the replica and original ring are posted as well. Registration for the auction is now open. The public is encouraged to visit JerryKramer.com to learn more.
The proceeds from the auction will be used to establish a trust fund that will provide financial assistance to those retired players who are disadvantaged or indigent due to the inadequate pension and disability compensation provided to older players by the league.
"I have always had great concern and frustration regarding the condition of some of the retired players who help build the league. The physical and economic conditions they deal with due to the lack of a sufficient pension and disability compensation is reprehensible. I just want to try and do something about it personally to help some of the guys who need it most," said Kramer.
Kramer will conduct the auction on JerryKramer.com with the help of Mastro Auctions, Inc. It will be a collaborative effort.
"With the experience and expertise of Doug Allen and Mastro Auctions behind my auction, I am confident that this will be a first class auction that will raise a lot of money to help some of the guys. I hope everyone will visit JerryKramer.com to keep up with the auction, learn more about the issues facing some of my colleagues, and express their views," said Kramer.
In the coming months, Kramer hopes to team up with other players who share the same concerns. Together with Mastro Auctions, he intends to put together a larger auction of many pieces to add additional funds to the trust.
Jerry Kramer's Super Bowl I ring was stolen 25 years ago on a United Airlines flight from Chicago to New York. It appeared in an online auction several weeks ago. Kramer learned of the auction from John Nitschke, the son of Ray Nitschke, the Packers' Hall of Fame middle linebacker, who refused to believe his deceased father's former teammate and friend would sell his Super Bowl I ring.
Kramer immediately contacted the auction house, Mastro Auctions, Inc. The auction was stopped. Kramer's Chicago-based lawyer Mel Fein contacted authorities, and then contacted the person who consigned the ring. The consigner had then asked that Jerry trade his replica to him for the original; the offer was not accepted. Mastro then worked diligently to secure its return by purchasing it from the consigner in order to return it to Jerry.
The event marks the end of a 25-year search by the 70-year-old offensive lineman for this most meaningful and historic possession. Kramer will continue his quest to find out where the ring has been for the past 25 years and asks anyone with any information to contact him through his web site, JerryKramer.com
Interviews with Jerry Kramer are available on request. Contact Jennifer Smith (920) 499-7133.
# # #