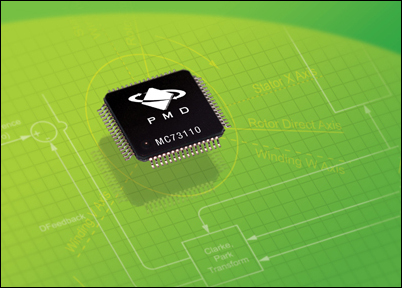 Lincoln, MA (PRWEB) May 16, 2006
Performance Motion Devices, Inc. (PMD) announces the MC73110 Motor-Control-IC with field oriented control (FOC) for brushless DC motors. This compact and intelligent single-axis IC increases motor efficiency, delivers a wide range of usable motor speeds along with numerous monitoring and control features. Only a MOSFET or IGBT three-phase bridge is needed to implement a full-featured drive. The MC73110 is ideal for use in applications such as medical automation, semiconductor equipment, general automation, scientific instrumentation, and other applications with high performance, low-cost brushless motor amplifiers.
Field oriented control is a math-intensive technique for commutating motors which provides greater motor efficiency, and higher top-end rotation speed then alternate methods. This capability on the motor control IC, MC73110 is an improvement over standard Hall-based approaches and gives a speed advantage over sinusoidal commutation in brushless DC motor systems. FOC also offers a significant improvement over standard variable speed drive techniques.
Utilizing an on-chip A/D converter, the MC73110 digitizes analog current feedback and provides multiple current control methods to maximize brushless-DC-motor performance. In addition to field oriented control, MC73110 can perform Hall-based and sinusoidal commutation. Other features include PID velocity loop, PI current loop compensation, trajectory generation, encoder input, and Hall sensor input. Analog or digital command input, profile generation, and six-signal symmetric PWM (pulse width modulated) waveform generation are also standard. It can be operated as a standalone intelligent motion IC or via serial commands as a programmable axis controller.
Chuck Lewin, CEO and President of PMD comments: "Motor performance and efficiency are the new watchwords of the motor control industry. With energy prices at an all-time high, increasing the efficiency of electric motors is very important. Field oriented control is a computationally-intensive technique, but it performs better than older techniques. And since the computing power required to execute it has now become available, you will see it in more and more motor control products."
The MC73110 for brushless DC motor systems is packaged in a compact 64-pin TQFP (thin quad flat pack) and operates from 3.3 V. Prices start at $18.00 in OEM quantities. For more technical information, please visit: http://www.motion-control.pmdcorp.com
CONTACT:
James H. Bailey
781.674.9860, Ext. 223
# # #