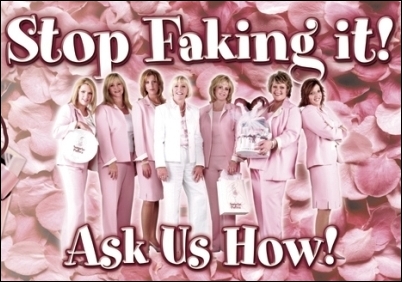 The goal of this campaign is to make sure women never raise their hand again...and the first step is communication.
Nashville, TN (PRWEB) May 18, 2006
For more than two decades, Surprise Parties has prided itself on bringing relationships closer by empowering women into communicating more honestly with their partners. Specifically, Surprise Parties VP Donna Wittrig has just come out and proclaimed that all women should "Stop Faking It!"
This message was not one that national billboard companies wanted to use their billboards for in Nashville, and the resulting effect is that women from throughout the south, and now the nation, are rallying behind Surprise Parties mantra.
What it's all about, Wittrig says, is helping women to take a "Stand by Your Man" approach to romance. "Everything Surprise Parties sells is designed to bring women, specifically married women, closer to the partner from whom they've drifted away, at least romantically."
"I was at a recent regional management meeting where I asked our representatives whether they knew women with children who'd never had an orgasm. Tragically, every woman in the room raised her hand," Wittrig says. "The goal of this campaign is to make sure women never raise their hand again...and the first step is communication."
Both CBS and Lamar Billboards declined to run the advertisement designed by Carr Knowledge LLC which featured the company's seven senior managers dressed in pink. On one side of the ad is a gift bag loaded with containers suggesting softness and sweetness. Pink rose petals litter the background. Above the seven women is Surprise Parties' tagline, "Stop Faking it!" The innocuous ad contains nary a hint of sex, profanity or gender bending.
"Once again the male mind has taken something so fun and slightly innocent to perversion." says Wittrig. "We are in the home party business where adult women host their friends, family and colleagues in the comfort of their home for a night of laughter, food, fun, friends and romance tips along with sensual items to spice up anyone's love life. Yes, we sell relationship enhancers but to say that is our "game" is a completely false statement. Just as the Titans football teams "game" is not popcorn sales. Yes, popcorn is being sold at the Titans stadium but their "game" is football. Our game is helping couples ignite the flames of passion in their relationship through honest communication, romance, fun, passion and play. Our game is not the sale of relationship enhancers entirely."
Nashville Scene, an alternative weekly, has documented this media issue in a story called Vibrators Off!
# # #