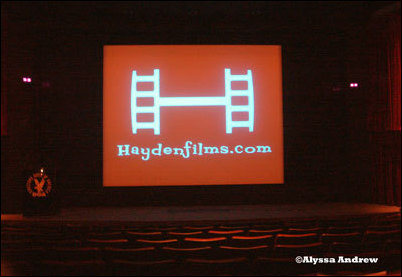 Kutztown, Pa., (PRWEB) May 23, 2006
The final call for entries for the Second Annual Haydenfilms Online Film Festival is approaching fast! Student and independent filmmakers can submit their short films for the chance to win a $10,000 cash prize! Late deadline for submissions is June 15, 2006.
Short films up to 35 minutes in length are being accepted from any genre including animation, documentary and experimental. The top 50 films as selected by the prestigious panel of judges will be entered into the online festival beginning August 30, 2006 at Haydenfilms.com
Haydenfilms members will vote online to select the winning film from these 50 finalists. The festival winner will be announced, and the top three finalists will be honored at our awards ceremony in New York City in January 2007.
Haydenfilms LLC, founded in 2001, is an independent film production and distribution company based in Kutztown, Pa. Their mission is to create and foster an online network of independent and student film producers and to provide the support and resources necessary for filmmakers to succeed. The Haydenfilms Online Film Festival was the first online festival to accept all short films regardless of genre and the first to offer a $10,000 grand prize. The Haydenfilms web site provides industry news, a crew database, a production board and shopping for filmmaking software and equipment.
For more details on the Haydenfilms Online Film Festival, as well as other Haydenfilms programs and events, visit Haydenfilms.com
# # #