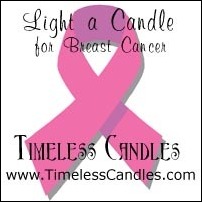 Portland, OR (PRWEB) June 30, 2006
Around the country innovative funding initiatives are popping up to support breast cancer research. In Waterloo IA, it's the "Pink Ribbon Golf Classic." In Jacksonville Fl, it's the "26.2 with Donna." In Knoxville Tn, it's the "BMW Ultimate Drive." And, for one week, across the internet, it's the Timeless Candles Grand Opening.
The Pink Ribbon Golf Classic in Waterloo Ia, anticipates 144 participants will come out and turn the greens pink for their annual fundraiser. Gearing up for 2008 the Donna Hicken Foundation is teaming up with the Mayo Clinic to hold the first ever marathon specifically to support breast cancer research. And, when Jane Tomlinson, mother of three, who has advanced metastic breast cancer, cycles from the Golden Gate Bridge in San Francisco to New York she will have ridden 4,200 miles to raise funds and awareness about cancer.
Meanwhile, co-owner of Timeless Candles Mary Richardson says, "We think all the innovation is really fabulous, and we're also aware that not everyone can run a marathon or participate in a golf classic, and not all BMW dealerships offer a BMW Ultimate Drive." Richardson went on to say, "We want to be part of the solution, so we decided to make it easy and painless for one week for anyone across the country to contribute to breast cancer research. Buy candles during our grand opening and we will give 100% of the profit to breast cancer research. We'll even give the first 100 people to buy our candles a complementary pink ribbon."
Richardson pointed out that according to the American Cancer Society there are currently about 3 million women living with breast cancer in America and that one third of them don't even know they have cancer. She also pointed out that unless things change nearly 205,000 women will die from breast cancer in the next five years.
"My dream would be that on the one week anniversary of our opening, Friday July 7th, people all across America would light a candle they bought from Timeless Candles in support of finding a cure for breast cancer," Richardson said.
About Breast Cancer:
It's the second leading cause of cancer death among women in US, and is responsible for nearly 40,970 deaths yearly. About 3 million women are estimated to have breast cancer, but nearly one-third do not know it. Risk factors include: not having children, or not having children until later in life, daily alcohol consumption, hormone replacement therapy, obesity after menopause, and family history of breast or ovarian cancer. Known protective factors include: breast-feeding and physical activity.
About Timeless Candles:
Timeless Candles Grand Opening is June 30, 2006. Individuals interested in helping Timeless Candles raise money for breast cancer research can spread the word to family and friends by e-mailing them this link: http://www.timelesscandles.com, and letting them know that 100% of the profits, from June 30th through July 7th, will be donated to help fight breast cancer.
Contact:
Mary Richardson
1-800-658-1917
# # #