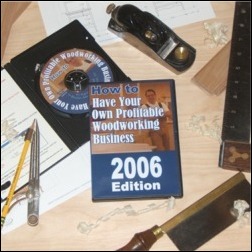 Planning is the key to success in any business venture
Boston, MA (PRWEB) July 5, 2006
For the skilled hobbyist woodworker looking to take their skills and use them to develop a successful small woodworking business they can consistently rely on, Profit From Wood has the definitive solution they need.
ProfitFromWood.com, launched in January 2005 by Boston Advanced Financial, Inc., is home to the world's only digital woodworking business tool, The How To Have Your Own Profitable Woodworking Business Multimedia Workshop. A computer based software tool which utilizes the written word along with audio and video, in one complete software package, to guide the student through a proven 33 Day Lesson Plan towards business success.
Developed by woodworking business owner and former IT professional Ed McDonough, the course was founded on the rock solid principle that one must plan before they do anything else. "Planning is the key to success in any business venture" said Mr. McDonough, who used the exact plan to start his woodworking business, Boston Accent Furniture, in 2002. He went on to say,"For some reason there's a belief that you have to lose money your first couple years in business; I disagree, and I have the definitive plan to prove it."
The workshop comes complete with the digital multimedia workbook and over 23 woodworking business tools which were developed by McDonough. The revised 2006 Edition supports an install/uninstall feature, has 7 additional built-in training videos, 2 new Business Profitability Tools and an updated menu driven interface, making navigation throughout the course simple.
About The How To Have Your Own Profitable Woodworking Business Digital Multimedia Workshop:
For more details on the Digital Multimedia Workshop woodworking business training course, please visit:
Ed McDonough gives a relaxed friendly interview and he will fill your readers and viewers with valuable information. To schedule an interview, call him directly at 508-668-2650. Ed is located in the Eastern Time Zone.
###