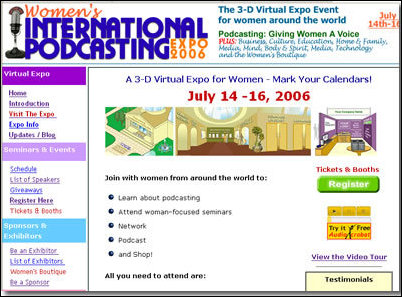 Canton, GA (PRWEB) July 14, 2006
This weekend, the 1st Annual Online Women's Podcasting Expo will offer women the opportunity to attend over 40 seminars and podcasts, browse more than 30 booths, talk and network with women from around the world, and take home freebies from among the 40+ giveaways -- all without leaving the comfort of their home!
All Attendees will receive free gifts from Exhibitor booths, such as an audio recording and editing program, a telephone recording line, CDs, Downloadable Seminar Audios and Instructional Ebooks. 3-Day Ticket Holders will also be eligible for thousands of dollars in prizes, including MP3 players, Podcast Production Services, Instructional Courses, Virtual Assistant Services, Coaching Sessions, Commercials, CDs and more.
Top Keynote Speakers include Pat Lynch, Annie Jennings, Elisabeth Lewin, Jody Colvard, Terri Levine, Penny Haynes and many more. Exhibitors include our Main Sponsor, Women's Radio, Women's Calendar and Audio Acrobat, 1st Podcast Publishing, ImageReady Media, Animal Talk Naturally, WAHM Talk Radio, Co-Op World, Cool Cast Radio, FashionTribes.com, Fordham University RETC, Essential Oils, Home Business Women Talk Radio, Isagenix, and many others.
Browsing the booths, participating in live podcasts, and attending three (3) of the seminars is free. However, 3-Day Ticket Holders receive unlimited access to all seminars and networking events, as well as to the download audio library of all recorded events, for only $25. For more information, go to http://www.WomensPodcastingExpo.com.
PRWeb is the official newswire of the Women's Podcasting Expo.
# # #