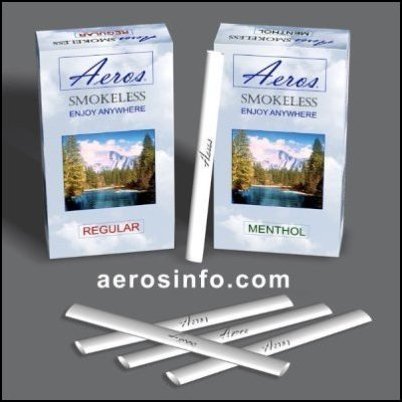 Why stop at preventing just fire when all smoke can be also eliminated along with carbon monoxide, tar and carcinogens delivered to the user.
Newport Beach, CA (PRWEB) August 9, 2006
The Aeros Smokeless Cigarette has been available for sale for about a year by direct purchase from the Woodleaf Corp. (http://www.aerosinfo.com). Very few people know about this web site as lawmakers have restricted most methods of advertising tobacco products. People that have happened upon the web site regularly buy the product either to use in places they can't smoke or to replace entirely their use of all other tobacco products.
"It is ironic." stated company president Richard Horian. "The same laws that were put in place to help people by preventing mass advertising of tobacco products have also prevented this new science from being broadly known to consumers and lawmakers. They
don't know that Aeros tastes and delivers satisfaction like other tobacco products but delivers none of the smoke, tar or carcinogens."
The Woodleaf Corp. of Newport Beach, CA is a small R&D company that does not have the means to conduct the required clinical study testing to make any formal health claims regarding the technology. Outside testing by government or medical institutions is openly invited by the company.
"I can only formally state that the product has been tested by an independent laboratory using the FTC Method tests and that people regularly reorder the product to use in place of other tobacco products and have written to say how much they like Aeros," he said. The FTC Method test published at the company web site reports that Aeros delivers -0- TPM (total particulate matter), -0- tar
and -0- carbon monoxide in the inhaled air mainstream.
The new Aeros Smokeless Cigarette uses a heatless technology to function like, taste and deliver the same satisfaction as an ignitable cigarette. The difference is that it does not deliver many of the other elements included with the use of chewing tobacco or cigarettes. This new "vapor transfer" science is accomplished by placing fresh, moist tobacco in an impermeable sealed plastic tube. When the user cuts the ends, natural tobacco flavors and nicotine are released in vapor form. The vapor molecules do not pick up carcinogenic particles which are left in the tobacco inside the tube.
Horian stated, "If lawmakers and the courts only knew that this science existed, it would change everything about what they would expect and demand from the major tobacco manufacturers. For years, the tobacco industry has used the 'razor blade' defense. We make razor blades; a legal product. People can get cut using razor blades. If there was a way to make a safer razor blade that wouldn't cut people, we would offer that product to the consumer. There is no such technology. We are therefore not responsible for razor blades cutting people."
The Aeros heatless tobacco technology is now known by many executives at major smokeless tobacco and cigarette manufacturers. The technology was offered to them for license but none have accepted to date.
"It's about reasonableness," stated Horian. "Don't the major tobacco companies that provide tobacco products to millions of people have a duty to use reasonable care to avoid injury to others? At least offer a choice of products so the consumer can make a decision between them? There is no excuse I can think of for the big tobacco companies to wait before offering this science to consumers that desire a tobacco product that does not deliver carcinogens."
Some U.S. Senators have been very active in trying to prevent the harm caused by the existing widely used tobacco products. Senators; John McCain, Mike DeWine and Ted Kennedy are among the many that have consistently offered legislation to support the reduction of harm caused by tobacco.
"These guys and the other responsible senators don't know about the Aeros technology," cited Horian. "If they did, I think they would support efforts to make the major tobacco companies offer this product choice to consumers. As legislators, they can only act upon what they know. The major tobacco companies might not be the best place to look for the safest tobacco science. The private and small business sector should also be included in making contributions in this area."
Recent laws enacted for safer tobacco products being made widely available include requirements for fire-safe cigarettes that self extinguishes if left unattended. Cigarette-ignited fires accounted for an estimated 140,800 fires in the United States. Such fires cause more than 900 deaths and 2,400 injuries each year. "Aeros goes so far beyond that," continued Horian. "Why stop at preventing just fire when all smoke can be also eliminated along with carbon monoxide, tar and carcinogens delivered to the user."
Horian concluded, "All lawmakers in congress and the states, all lawyers and judges in the courts, all major companies that manufacture, distribute or sell chewing tobacco and cigarettes be hereby advised that the Aeros technology exists today, is available for license, has been allowed for sale after testing by the US government and could possibly make a major difference to the millions of people that use tobacco products and rely on government, manufacturers and retailers to make available to them the safest products possible."
Press Contact: Richard Horian
Company Name: Woodleaf Corp.
Email: aerostst @ aol.com
Phone: 949-675-2121
Website: http://www.aerosinfo.com
###