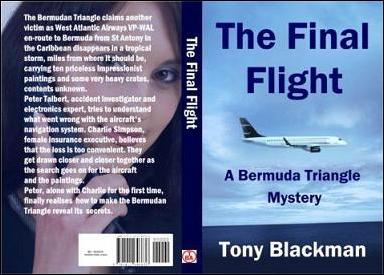 (PRWEB) September 28, 2006
The new mystery, "The Final Flight," by Tony Blackman is about a modern jet liner disappearing in the Bermuda Triangle when flying from the Caribbean. The plane was carrying ten world famous impressionist masterpieces which were being returned home to Jimmy Morrison, a billionaire boss of the Paragon Corporation. Peter Talbert, fresh from his success solving the mystery of a terrible accident to a Super Jumbo at Heathrow, flies out to St. Antony to help West Atlantic Airways find out what went wrong.
The European Aerospace 412 had taken off from St. Antony in the Caribbean to deliver the ten priceless paintings and a cargo of freight to Bermuda but somehow the aircraft seemed to have gone in the wrong direction and flew into a hurricane. The automatic position reporting incredibly did not seem to agree with the actual position of the aircraft and 100 miles south of Bermuda the aircraft disappeared.
Peter Talbert visited the New York Oceanic Center and was horrifed when he heard and saw the last messages from the aircraft. Meanwhile RAF Nimrods, United States search aircraft, a Royal Navy frigate and other boats were searching the Atlantic trying to find the crash recorders and the aircraft itself. Arriving in St. Antony Peter started to explore how the accident happened.
The firm insuring the paintings sent out Charlie Simpson, an expert art investigator to try to recover the paintings and she rapidly became convinced that the accident was 'too convenient'. Working separately at first and then gradually together Peter and Charlie begin to fathom out the true story. Irresistibly they are drawn closer together and finally, in Charlie's room for the first time, Peter suddenly realises what must have happened.
The reader is taken on to the flight deck of the lost aircraft as the story unfolds and only right at the very end is the amazing explanation revealed. This book is very cleverly constructed and technically right up to date. It is a worthy addition to the many mysteries in the Bermuda Triangle.
This book is the second in a series featuring Peter Talbert, the first book being A Flight Too Far which tells the story of disastrous accident to a super jumbo crashing on the approach to London's Heathrow Airport in freezing fog. These books will appeal to allo who fly, not just aviation enthusiasts.
###