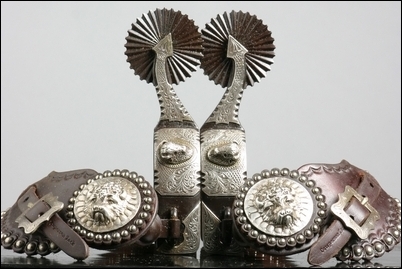 Reynold's broad knowledge of western collectibles and the breadth of his personal collection rank it in the top 5, if not number one
Waco, TX (PRWEB) September 8, 2006
An incredible spur collection of the late W.F. "Bill" Reynolds will go up for public auction on September 16th and 17th at the A&S Antique Auction Company in Waco, Texas. The sale, one in a series of his estate, contains almost 500 pairs of antique and contemporary spurs, and is considered to be the largest spur collection ever sold at one time.
The collection contains almost every design imaginable from the double diamond worn by John Wayne to the gal leg style in the shape of a woman's leg complete with slippers and stockings. Many are embellished with inlaid silver, engraving, and figures of Buffalos, Longhorns, bucking broncos, snakes, flowers and swans. Some are even adorned with rubies, emeralds, and sapphires. Other styles are California, Texas Prison, hand-forged, early cowboy, including a pair of rare J.C. Petmecky spurs by an early Austin, Texas spur maker valued at $15,000.
"Reynold's broad knowledge of western collectibles and the breadth of his personal collection rank it in the top 5, if not number one," said Otis Hibler, board member of the National Bit, Spur and Saddle Collectors Association.
The sale includes rare spurs from early spur makers up to some of today's most sought-after contemporary masters such as Kelly, Texas Prison Made, Ray Anderson, Billy Klapper, O.R. Huff, Jerry Wallace, Lytle and Mower, Carl Hall, Ray Anderson, Wayne Paul, Danny Pollard, W. Bass, Jerry Wallace, Cates, Randy Butters and many other of today's makers. McChesney, Petmecky, C.P. Shipley, KB & P, Jess Hodge, August Buermann, Crockett, Kelly Bros., Blanchard, Boone, Tom Johnson, Snider, Bayers and other famous older makers are represented.
There will be an additional three hundred cowboy items from his estate including original western bronzes by famous sculptors including Harry Jackson, Grant Speed, Duro Flood, Clay Dahlberg and Skip Glomb. There is other fine western art, a branding iron collection, buckle sets, Navajo rugs, gold pocket watches, Keyston Bro. items, antique firearms and extraordinary carved Black Forest clocks.
Absentee or phone bidding is available along with a catalog by calling 254-799-6044. For more information visit http://www.bigtexasauctions.com.
For More Information Contact:
Amy McMurrough
McMurrough & Associates
512-252-7200
###