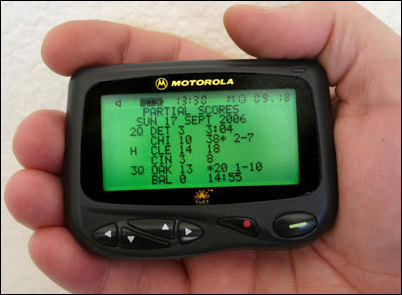 The more things change, the more they stay the same
Las Vegas, NV (PRWEB) September 19, 2006
"The more things change, the more they stay the same," commented Ed Skowronski, President of TheSportsPage.com, the nation's leader in wireless sports information. 20 years ago TheSportsPage.com™ invented the sports pager as a way to get sports information to on-the-go sports fans who didn't want to be tied down to a TV, radio or score phones. The pager displays scores and betting lines from all the major sports leagues (NFL, NBA, MLB, NHL and College Football and Basketball). 20 years later, people still prefer the convenience of the pager to even cellular phones. During this time, this Las Vegas-based company has relied on the insatiable appetite of the sports fan.
This appetite for sports information has weathered the technology explosion. Today, in this age of I-pods, black berries and laptop computers, the reliable sports pager still has a roll. In fact, the sports pager only takes one or two clicks to find a score or line; whereas a phone or computer takes many keystrokes to find the relevant data. Portable affordable sports information will always have a place in the heart of the hard core sports fan and there will always be a demand for sports information that can be carried around in the palm of the hand.
Skowronski explains: "But the pager can go way beyond that. With today's infatuation with celebrities and Reality TV our pager could show the line on Emmitt Smith winning Dancing with the Stars or Survivor Series odds or who's the frontrunner for Jessica Simpson's next date."
From a humble beginning to the top of the wireless sports information industry TheSportsPage.com™ bet big by betting on sports fans who want portable sports information. The sports pager was a great idea 20 years ago and it is still going strong today. The more things change, the more things stay the same indeed.
# # #