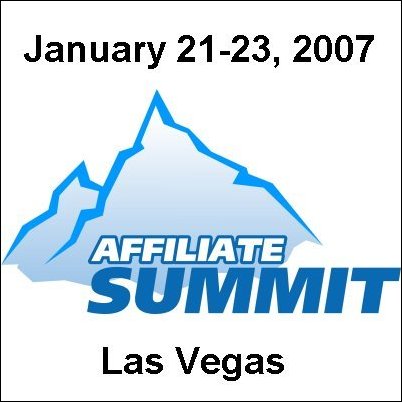 Berkeley Heights, NJ (PRWEB) September 21, 2006
Affiliate Summit 2007 West is taking place January 21-23, 2007 in Las Vegas, Nevada. The Affiliate Summit conferences are presented by Shawn Collins and Missy Ward.
The show provides an opportunity for affiliate marketing and search engine marketing executives to get together and learn from one another in a unique, cooperative environment.
The Keynote Speaker will be Michael Sanchez, CEO and Co-founder of ClubMom.
The Early Bird registration rates of $949 (full conference) and $199 (exhibit hall only) are going up after September 30. Starting October 1, the rates to register for Affiliate Summit will be $1,449 (full conference) and $299 (exhibit hall only).
The Affiliate Summit conference will feature an expanded exhibit hall, and a limited number of booths are still available. The booth sponsorships provide the sponsors with the exhibit hall space, passes for employees, contact information for attendees, and free passes to share with affiliates.
Pricing for exhibitor booths will also change after September 30. 10' x 10' booths will increase from $3,995 to $4,995 and 10' x 20' booths will increase from $5,995 to $7,495 starting on October 1.
Other Affiliate Summit sponsorships are also available. See http://www.affiliatesummit.com/sponsors.shtml for details.
Rooms at Bally's Las Vegas are available at an Affiliate Summit group rate of $119 a night until December 17. After that, the hotel will charge the prevailing rate.
For more information about the Affiliate Summit show, including the companies currently registered, please visit http://www.AffiliateSummit.com.
Subscribe to the Affiliate Summit Real Deal Newsletter for breaking news, tips and the latest information about the affiliate marketing industry at http://www.RealDealNewsletter.com
About Affiliate Summit, Inc.
Affiliate Summit, Inc. was founded by affiliate marketing industry veterans Shawn Collins and Missy Ward and serves the affiliate marketing professional community. The mission of Affiliate Summit is to be the leading global source of learning and networking opportunities surrounding the affiliate marketing industry. For additional information about the conference, please visit AffiliateSummit.com and contact us at 866-483-0167.
###