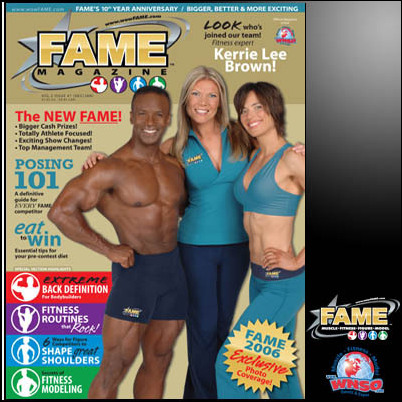 Our organization has been 10 years in the making and we are ready to blast off to an unprecedented level in our industry
Toronto, ON (PRWEB) September 20, 2006
FAME Media Group , the world leader in all-natural Fitness Sports Competition, Media and Entertainment, is thrilled to welcome renowned fitness expert, journalist, author, radio personality, motivational speaker, and former editor-in-chief of Oxygen magazine Kerrie Lee Brown to the FAME team in the capacity of Vice President, Publishing and Communications. With over nine years' executive-level experience, Brown's unique and savvy perspective on the business of fitness has positioned her as a top spokesperson and expert on exercise and weight loss. Her in-depth industry knowledge, top-notch media skills, and extensive magazine talents will help take FAME Media Group to the next level in publishing, elite athlete management, and worldwide recognition.
"Our organization has been 10 years in the making and we are ready to blast off to an unprecedented level in our industry," said Jeff Kippel, co-founder and co-CEO of FAME Media Group. "Having Kerrie join our team is a major catalyst in making that happen."
"We are passionate about making athletes and competitors the most important focus of everything we do at FAME," added FAME Media Group co-founder and co-CEO Mindy Blackstien. "We are very excited to have Kerrie working closely with the athletes to make sure they get maximum exposure and promotion."
"I am extremely excited to join FAME Media Group and look forward to helping transform the competitive world of fitness, figure, bodybuilding, and fitness modeling as we know it! I have always enjoyed working closely with the industry's most talented athletes and my new position with FAME will allow me to play a huge role in driving competitors' names to the forefront of the media, sports and entertainment arenas," said Kerrie Lee Brown, newly appointed VP, Publishing and Communications, FAME Media Group. "I am also thrilled to be able to share my magazine experience to help make FAME Magazine more athlete focused and recognized worldwide."
Now celebrating its 10th anniversary, FAME Media Group, sanctioned by the World Natural Sports Organization, has major expansion plans in the works for its 2007 season, including more than 250 exciting events on the FAME World Tour; Bigger Cash Prizes; New Earning Opportunities for Athletes; More Prestigious Pro Shows and Titles; Promotion Galore for FAME Professional Athletes; Exclusive Athlete Endorsement Contracts; a New Five-Tier Competition System (including FAME camps, workshops, practice competitions, and qualifier shows); and a New Logo!
Also, watch out for the next edition of FAME Magazine (available by subscription and to WNSO members this November) with its New Look, New Frequency (now bi-monthly), New Format (moving from a digest size to a full-size publication), and bi-annual Swimsuit Specials. With circulation of more than 200,000, FAME Magazine is completely athlete focused and offers a multitude of articles on training techniques, competition preparation, nutrition, supplementation, and inspiring FAME athlete success stories designed to motivate readers of all ages and fitness levels to reach their personal health and fitness goals.
FAME Media Group also looks forward to implementing its own FAME Personal Trainer Certification Programs, developing a new FAME Dance Championships series, publishing a FAME Diet and Lifestyle book, and launching a new and improved, easy-to-navigate, website with an amazing New Athlete Forum for sharing news, gossip and contest tips at http://www.wowFAME.com. Also coming soon: an all-access Athlete Resource Lounge, Photo Shoot Studio, Workshops and Seminar Centre at FAME Headquarters, the FAME Fitness Employment & Model Agency; and the most prestigious competition ever – the 2008 FAME World Championships – with over $500,000 in cash, endorsement contracts, trophies and prizes. (Bids will be generated to choose the best city to host the event in North America.)
FAME Media Group is very excited to open its doors to all natural athletes, models, and fitness enthusiasts! For more information on advertising in FAME Magazine, magazine subscriptions, sponsoring FAME events, organizing a FAME competition or expo, e-newsletters, or competing with FAME, visit http://www.wowFAME.com or call 877 WOW-FAME.
For additional information, interviews or appearances please contact:
Jeffrey Kippel or Mindy Blackstien
Co-founders and Co-Chief Executive Officers
or
Kerrie Lee Brown
VP, Publishing and Communications
FAME Media Group
(416) 910-3263
# # #