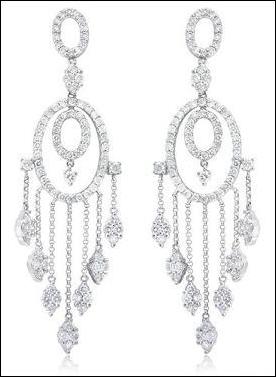 New York, NY (PRWEB) September 21, 2006
Chandelier earrings have been the most popular designer jewelry worn by celebrities at 2006 award shows, which is why Firenze Jewels, a family-owner jeweler in the heart of Manhattan's Diamond District, is featuring the latest diamond earrings and designer jewelry inspired by the hottest Hollywood celebrities and supermodels to their in-store jewel cases and online catalogue.
"Celebrities and supermodels have always been trendsetters when it comes to fashion and jewelry," said Gabrielle Guzman, Internet Sales Director of Firenze Jewels. "Tyra Banks wore long cascading diamond earrings as part of a multi-million dollar collection she displayed at the 2006 Emmy's, and the distinctive clove shaped chandelier earrings Heidi Klum designed for herself were not only gorgeous but stole the show."
Firenze Jewels carries diamond chandelier earrings in several styles, including:
Stunning chandelier earrings containing round, pear, and marquise shaped diamonds
Breathtaking chandelier platinum earrings handcrafted with assorted fancy cut and round diamonds
Beautifully handcrafted chandelier diamond earrings
Beyonce Knowles has been credited with saying, "I firmly believe--no matter what else you wear--if you have the right shoes or earrings, you'll be fine." Visit http://www.FirenzeJewels.com to see the latest trends in diamond earrings, chandelier earrings, and designer jewelry worn and inspired by the some of the loveliest women in Hollywood. Visitors can also purchase the diamond earrings showcased here from the online catalogue at http://www.FirenzeJewels.com.
About Firenze Jewels
Family owned and operated jewelers since 1937, Firenze Jewels is located in the heart of the Manhattan Diamond District. Their staff, which includes talented designers as well as a graduate gemologist from the renowned GIA (Gemological Institute of America), have been with them for over 12 years, and collectively bring decades of knowledge and expertise to ensure every shopping experience is a positive one. Firenze Jewels carries the world's top designers, an extensive collection of G.I.A. certified diamonds, and the most elegant and sophisticated wedding bands, engagement rings, diamond earrings and jewelry collections.
###