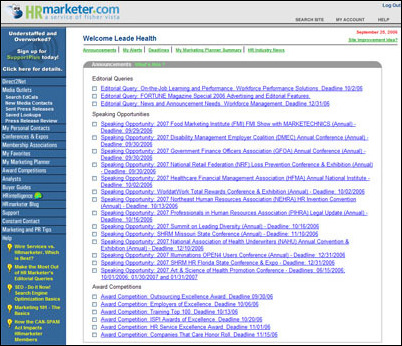 HRmarketer has taken a personal interest in helping Leade Health achieve success in our industry.
Capitola, CA (PRWEB) September 26, 2006 –-
A pioneer in the field of health coaching, Leade Health is a disease prevention firm that helps corporations, health plans and governments reduce medical costs by supporting individuals in changing lifestyle behaviors that compromise their health and productivity.
While experiencing rapid growth, Leade Health lacked the staff to mount large-scale marketing and PR campaigns that would increase visibility to its target markets of corporations and health plans. By partnering with HRmarketer.com, a Marketing PR service focused on the human resource industry, Leade has been able to brand its health coaching services and increase its publicity, site traffic and sales leads.
HRmarketer, the No. 1 online marketing and SEO-PR service for companies selling HR and related products and services, combines a database of marketing and PR information with campaign management, execution and business intelligence tools.
"HRmarketer helped us to develop a plan and a strategy to achieve our marketing and PR goals," says Michael D. Mulvihill, Leade Health's CEO. "Their early work with us focused on our market differentiators and tailoring our messages to the marketplace, which was incorporated into our marketing collateral. The next phase involved using HRmarketer.com to launch an aggressive public relations campaign involving monthly press releases tied to company achievements and industry-specific white papers. HRmarketer has been a valued and trusted source for helping us to become a recognizable name in the health and wellness industry on a national scale."
Search Engine Optimization (SEO) was an important aspect of Leade Health's overall strategy. The company sends press releases with carefully-chosen keyword links through HRmarketer's Direct2Net Internet wire service. Direct2Net submits the press releases to hundreds of major search engines and news portals such as Google News, Yahoo! News, MSN and Alta Vista. As Leade has gained Internet presence, its Google ranking has increased dramatically, ranking as high as No. 2 for its keywords.
"HRmarketer has taken a personal interest in helping Leade Health achieve success in our industry." Mulvihill says. "They continue to work as our partner, playing a strong consultative role and not as a 'contracted service.'"
Read other HRmarketer.com success stories by visiting http://www.hrmarketer.com/home/download_case.htm
About Leade Health
Founded in 1990, Leade Health has earned a reputation of excellence, innovation and integrity. Leade Health helps organizations decrease medical costs and increase productivity by supporting individuals in changing behavior. They do this by assessing and triaging high-risk individuals into highly personalized health coaching programs, focusing on weight management, stress management, tobacco cessation and cardiovascular health.
About HRmarketer.com
HRmarketer is a service of Fisher Vista LLC, a marketing and information services firm focusing exclusively on the human capital industry. The company services over 300 HR service providers, employee benefit brokers and consultants, helping them generate publicity, website traffic and sales leads.
This press release was distributed through eMediawire by Human Resources Marketer (HR Marketer: http://www.HRmarketer.com) on behalf of the company listed above.
###